Advice on drinking alcohol to be reviewed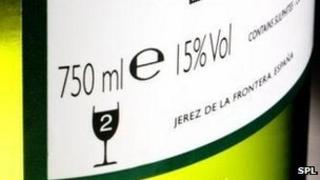 The UK's chief medical officer has been asked to review current guidelines on how much alcohol is safe to drink.
The move forms part of the government's newalcohol strategyaimed at cutting the number of people drinking to excess.
The current recommendations, which are over 15 years old, say women should drink no more than 2-3 units of alcohol a day and men no more than 3-4.
Critics say they fail to emphasise the importance of having drink-free days.
Scottish guidelines advise people to abstain for at least two days a week.
The Department of Health says it has heard "sufficient concerns" from experts to suggest that a thorough review of the evidence on alcohol and health risks is now due.
"Clear and easily understood information is central to ensuring that everyone is aware of the risks of excessive alcohol consumption and can make informed choices about responsible drinking," it said.
The chief medical officer, Dame Sally Davies, will lead the review in consultation with government officials in Scotland, Wales and Northern Ireland for a UK-wide perspective.
And she will consider if there could be merit in producing bespoke guidelines for certain groups, like older people, who may be particularly susceptible to alcohol harms.
The government has already produced separate guidelines for young people and pregnant women.
Research shows that many people who drink do not realise how much they consume.
Over 9m people in England (22% of adults) reported drinking at above guideline levels in 2009.
And 19% of men and 12% of women are "binge drinkers" - defined as those who drink more than double the guideline amount for a day.
Meanwhile, government plans to impose a minimum unit price for alcohol in England and Wales could bring an annual £850m windfall for the drinks industry, according to a leading economic think tank.
The Institute for Fiscal Studies estimates that almost half the units of alcohol sold off-licence in shops and supermarkets - 47% - would be affected by the government's suggested minimum price of 40p a unit.
The IFS says it would be better to introduce a "floor price" for alcohol through the duty system instead so that the revenue raised went to the Treasury rather than manufacturers.