Warning over co-codamol tablets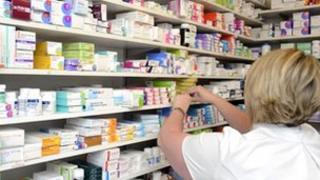 The UK medicines regulator has issued a warning after the wrong strength of tablets was put into some packets of the painkiller co-codamol.
Some packs in batch LL11701, expiry date of September 2014, which should contain 8mg/500mg strength tablets have higher strength 30mg/500mg tablets.
Wockhardt UK Ltd, which makes the medicine, is recalling the batch.
The Medicines and Healthcare products Regulatory Agency (MHRA) said there may have been a manufacturing error.
The medicine is used as a painkiller for the short term treatment of acute, moderate to severe pain which cannot be relieved by paracetamol, ibuprofen or aspirin alone. It contains codeine.
The MHRA has issued a drug alert to health professionals.
The different strength tablets can be identified by their markings.
The 8mg/500mg tablets are marked on one-side only as "<AB>" - these can be bought over-the-counter.
However the higher strength 30mg/500mg tablets - marked on one side as "CCD30" and marked as "CP" on the second side - are a prescription-only medicine.
Packs, which contain 32 tablets, from the affected batch were first distributed on 30 December 2011.
Just under 39,000 were distributed to pharmacists and wholesalers for onward sale in the UK.
Ian Holloway, MHRA head of the Defective Medicines Report Centre said: "If you have a packet of the affected medicine, return it to your pharmacist who will replace it.
"If you think you have taken the wrong strength tablet, and in the unlikely event that you feel unwell, speak to your pharmacist or GP promptly."
Neal Patel, pharmacist at the Royal Pharmaceutical Society, said: "Patients who may have taken a larger dose of codeine than anticipated may feel more drowsy so should not drive.
"Other possible side effects include confusion, headaches, nausea and vomiting.
"People with pre-existing long term conditions, the elderly or those taking other medicines may be particularly vulnerable to adverse effects and should speak to their pharmacist for advice. However for most healthy adults if only a single dose has been taken there should not be any long term problems."
People with concerns about an affected packet can also speak to the Defective Medicines Reporting Centre on 0203 080 6574.