Diabetes complications 'at record high'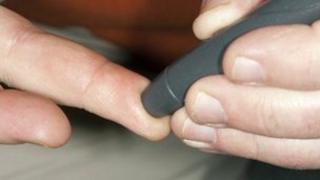 Rates of stroke and kidney failure in people with diabetes have surged in England, according to new analysis by Diabetes UK.
An audit of 1.9 million people with Type 1 and Type 2 diabetes found more than 13,000 had a stroke in 2009-10, a 57% rise from 2006-7.
And more than 7,000 had kidney failure, up 31% from 2006-7.
Barbara Young, chief executive of the charity, said the rates of the complications were "shocking".
Across the UK, 2.9 million people have diabetes, and another 850,000 are believed to have undiagnosed Type 2 diabetes.
A recent survey by the charity suggested almost a quarter of people with diabetes were unaware of having had their kidney function checked in the previous year, while 7% had not had their blood pressure checked.
Barbara Young said: "It is shocking that rates of strokes and kidney failure in people with diabetes are now at record levels and yet thousands of people are still not getting the health checks that can help prevent them.
"These figures are a reminder that all people with diabetes should have these checks every year, as this is the simplest and most effective way of reducing risk of complications such as stroke and kidney failure.
"We also need to get the message across to people with diabetes that they should demand these checks if they are not already getting them.
"Stroke and kidney failure are complications that hugely reduce quality of life for many people with diabetes, while the cost of treatment far exceeds that of the simple checks that can help prevent them developing in the first place."