How others are tackling problem drinking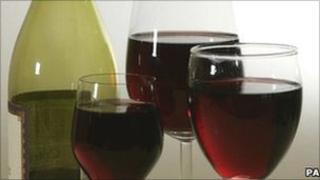 Ministers are proposing a minimum price for alcohol and banning the sale of multi-buy discounts.
They believe it will help reduce the burden on society from excessive drinking. Last year alone there were nearly 1m alcohol-related violent crimes and 1.2m hospital admissions.
But England is not the only country to try to tackle this problem. What have other nations been up to?
Cracking down on marketing
The Loi Évin legislation was introduced in France in 1991.
It places restrictions on alcohol advertising, as well as banning sponsorship of cultural and sporting events, which often have a particular appeal to young people.
Where alcohol advertising is permitted in France, it must be strictly factual and refer only to the characteristics of the products, such as strength, place of origin and ingredients.
Since it came in there has been a host of court cases against advertisers and the legislation was credited with stopping alcohol firms playing a major role in sponsoring the 1998 football World Cup.
However, the effect on alcohol consumption has been more difficult to gauge as the amount the French drink has been falling since the 1960s.
Using social media
It is still early days, but perceptions about binge drinking are slowly changing in Australia thanks to a social media campaign.
After waking up with one too many hangovers, Chris Raine embarked on a year-long project to change his drinking habits and started blogging about it.
In the end, he inspired hundreds of like-minded people by setting up the online social media siteHello Sunday Morningwhere others share their experiences about what it is like to wake up without a hangover.
Three years on the site has over 2,500 people from Australia and New Zealand signed up and has received stacks of media attention.
But this is just the start. The project has received funding from the Australian Centre for Social Innovation, which has allowed full-time staff to be taken on to spread the word.
The power of the state
Finland has a heavy drinking culture and, like many countries which had a prohibition era, the sale of alcohol is strictly regulated.
Beer, wine and spirits that are more than 4.7% alcohol are sold via the monopoly chain Alko.
No discounts or special offers are allowed, while any increase or decrease in government tax is directly passed on to consumers via prices.
The situation contrasts with practices in the UK where retailers have traditionally absorbed any extra duty imposed.
This has meant that recent tax rises have slowed a surge in consumption that was seen six years ago.
Minimum pricing
Minimum pricing has been used in Canada for the best part of 20 years. It varies from province to province, but there is a wealth of evidence it works.
In British Columbia, a 10% increase in minimum price has shown decreases in consumption ranging from 1.5% for beer to 9% for wine.
Saskatchewan has had even more success. It has combined minimum pricing with a cut in taxes on low-alcohol beer - which now accounts for a third of the beer market.