EastEnders star's dilemma over her deaf daughter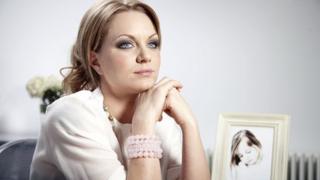 EastEnders actress Rita Simons juggles playing Roxy Mitchell with being mum to six-year-old twin daughters - one of whom, Maiya, is slowly losing her hearing, meaning Rita and her husband must make some agonising and life-changing decisions on her behalf.
When Maiya was six months old, doctors found that she was missing nerve endings and parts of her cochlea in her ears.
Over the years, her hearing has deteriorated so that she has lost hearing in her left ear and can only hear loud sounds in her right. But with two hearing aids in, she can hear people talking.
Rita and her husband, Theo, had hoped that she would be able to hold on to her hearing, but doctors have warned them she is likely to lose it all. Added to this, any bang to Maiya's head could accelerate the deterioration. This has led Rita to "panic" at any playground fall.
"We feel we are constantly walking a tightrope that we could fall off of at any point with no given warning," said Rita.
"We are just constantly trying to preserve, preserve, preserve and sometimes it seems so pointless because unfortunately it may all be futile in the end.
"It seems so unfair but it is what it is, isn't it?"
Singing and dancing
A typical day in Rita's house sees Maiya and her twin sister Jaimee putting on shows for family and friends, donning a vast array of costumes.
Maiya says she wants to be "a fairy, a vet or a show-player" her word for actress, when she grows up.
It is her love of music, singing and performing that Rita realises will play a major part in their decisions about her future.
Maiya has grown up in a hearing world and the family have yet to engage with the deaf community. But with the news about Maiya's likely total hearing loss, Rita and Theo decided they needed to address what is the best way forward for her.
Should they introduce Maiya to the deaf world, learning sign language and sending her to a special school? Or try to maximise her hearing with technology, implants and artificial sound. Or a mixture of the two?
"People say you must engage with the deaf community, but we haven't felt we needed to," Rita explains.
"Her life is very full. She goes to ballet, street dance, she does all these things without anything having to be designed especially for deaf kids, so we haven't engaged."
The National Deaf Children's Society believes it is vital that deaf children and their families get all the unbiased, comprehensive information that they need to make informed decisions. And other parents of deaf children can have valuable insights as they have lived through all the highs and lows that parenting can bring.
Rita realised she and Theo would need to meet some of those directly involved to understand the issues fully.
Trish Thompson is mother to seven-year-old Paris, who is deaf. She urged Rita to consider British Sign Language for Maiya, pointing out how important communication is for deaf children and that Maiya might have been hiding her hearing problems.
Many in the deaf community see British Sign Language as their own language and part of their cultural identity. For some,cochlear implants are controversialas they are seen as a rejection of deaf culture.
"My feeling is it's like an abuse of a child to put a cochlear implant in," one of Trish's deaf friends told Rita. "They are too young and they won't understand what it is."
"I feel fairly resentful of being called an abuser," Rita responded, managing to still smile.
"People in the deaf community have a strong view and I don't disagree with them, I just want to know why. Give me your reasons as to why I should do what you say I should do."
Spirit and perseverance
While Maiya has been doing well at mainstream school, she gets very tired because she has to concentrate so hard. This has led to tantrums.
And her first experience with a sign language teacher did not go well. Maiya ended up walking away bored.
Rita was told by a head teacher at a special school for deaf children that it could be a better option for Maiya, if she started noticing signs that her daughter was not happy or things were distressing her at her current school.
But the visit left an emotional Rita in tears.
"It upsets me because those kids just get on with life - they don't see themselves as having anything wrong with them, it's their spirit and their perseverance. It's like looking at my child," she said.
"I'm very reassured to know that if the time came, and I needed to, this is here. There is a conflict now because I do know there is somewhere out there that can enhance her learning experience.
"I'm really surprised at how much Maiya could get out of a place like this."
Rita also witnessed a nine-year-old boy called Jack having his hearing tested for the first time after having implants.
A cochlear implant is a surgically-implanted electronic device that can improve hearing by stimulating the auditory nerve.
Although an implant cannot restore hearing to normal, it does give the sensation of sounds. It would only be suitable for Maiya when her hearing aids stopped working.
As Jack began to recognise sound, a big smile spread across his face. Rita was touched by his reaction.
"I definitely went into this thinking it was a big intrusive contraption and it's all a massive nightmare but looking at Jack and his reaction - it's going to change his life for the better."
Bridget Harley, at the Ear Institute in London, helped Rita decide by asking her to put herself in her daughter's position: "How would Maiya feel if she had to go without her hearing aid for a week?"
"Devastated," replies Rita immediately.
Rita and Theo felt they had explored the issues as thoroughly as they could. They even spent a day wearing ear plugs that reduced the hearing to what Maiya experiences.
Finally, Rita believed they had found the best way forward in the best interests of singing and dancing Maiya.
"Regardless to what anyone from the deaf community says, and I understand everyone has their own opinion - I cannot fathom for the life of me, and I've tried, if sound is on offer why you wouldn't take it."
Rita Simons: My Daughter, Deafness and Meis on BBC One at 22:40 on Tuesday 20 March, repeatedwith sign languageat 01:20 GMT Wed 21 March. Watch online afterwards at the above links.