Care homes 'struggling to meet medical needs'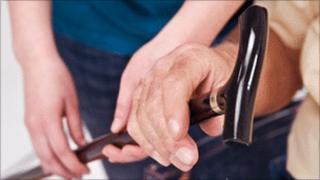 Care homes in England are increasingly struggling to meet the medical needs of their residents, research by the Royal College of Nursing suggests.
A lack of equipment, staff and training were identified as key problems by the online poll of nearly 600 nurses.
The RCN said the situation was being further compounded by the ageing population, which meant residents were developing ever more complex needs.
About three-quarters of care provided in care homes is classed as nursing.
It can range from help with basic activities, such as washing and dressing, through to more complicated services such as dementia care and using heart monitors.
'Worsened'
But 38% of the nurses polled felt there were too few nurses to provide the right care, and a quarter said there was not enough equipment.
Training, particularly relating to the handling of dementia patients, was also highlighted as an issue.
But the research also highlighted the squeeze on fees that councils are making. They fund about two-thirds of the 460,000 care home places.
The report comes a week after the Care Quality Commission raised concerns about the lack of NHS care in care homes, especially from GPs.
RCN general secretary Peter Carter said the findings were "hugely concerning".
"Many of these challenges are not new, but following years of underinvestment, these issues have now significantly worsened."
Martin Green, of the English Community Care Association, which represents care homes, agreed funding was a real problem.
But he added: "We need much more support from the NHS. The residents we are looking after are people who would have been in hospital a decade ago."
Care Services Minister Paul Burstow said it was clear the social care system needed overhauling, adding that was why ministers would publish plans for reform in the spring.
"The white paper will bring clarity to what quality care in social care looks like. It will seek to empower everyone involved in social care to play their part in ensuring high quality care for all."