How GPs are seizing control as power shifts in the NHS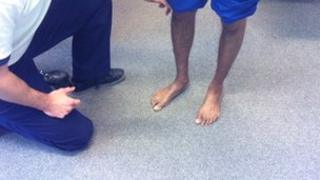 A factory worker is having his ankles examined by a physiotherapist. He stands on tiptoe as NHS staff try to assess why he is troubled by sporadic pain.
This clinic is in a GP surgery, and two family doctors are part of the consultation. They are learning useful techniques from the physiotherapist.
Dr Umesh Roy started the project last year after data from the local hospital in Leicester took him by surprise.
He said: "About 14,000 patients attend the orthopaedic department each year. But about 40% of them are discharged after their first outpatient appointment.
"I thought it was odd that so many patients had a problem, but not one which was serious enough to require further interventions."
Dr Roy began testing the idea of the musculo-skeletal clinic in his own practice, and the idea has now taken off to be used more widely in the city.
This is a sign of how GPs are taking control of work that had been the preserve of hospital clinics. More convenient for patients perhaps, but potentially destabilising for some hospital services.
A few miles away at Willowbrook Medical Centre, Dr Rish Prasad is keeping tabs on patients who have been admitted to hospital with urgent problems. He ensures they are in contact with community matrons, and that they do not end up languishing on hospital wards.
It is another example of a more proactive approach to GPs care.
'Heartbreaking' meetings
As part of the shift of power, the local Primary Care Trust is shedding more than half of its 150 staff.
Dr Prasad believes innovation has become easier now that there are fewer layers of management.
He said: "Two years ago I tried to initiate a very small scheme to improve the treatment of deep vein thrombosis. But it used to take so long to push things through.
"The project would have cost a few thousand pounds - but saved £10,000. The number of meetings and discussions we had was heartbreaking!"
Dr Prasad's practice has already had to provide extra cover to allow GPs time for new commissioning schemes, and he admits patients may not be happy about the changes.
He said: "As you pull GPs away from frontline clinical work, there will be disruption to services.
"That's not to say there will be less of a service - we're actually providing more clinical sessions. But you may not see the doctor you want to see, because they'll perhaps be doing other things.
"I can't be in two places at once - seeing patients and chairing a meeting. This is going to be an interesting issue over the next five years."
The Leicester Mercury patients' panel, which was set up by the local newspaper, is concerned that people will find the new system baffling. It is trying to start a phone line which would allow patients to raise concerns about their care.
Involvement of the private sector has played a big part in the national debate about the NHS reorganisation - and the panel's chairman, Ballu Patel, told me he was worried about recent decisions in the East Midlands.
Mr Patel said: "The ambulance service lost the patient transport service, which went out to tender. The chief executive told us they had to pay VAT and include that in their bid, whereas the private sector didn't have to."
Complicated contracts
The GPs involved in the Clinical Commissioning Group (CCG) are getting busier and expect to be fully in charge of healthcare decisions in Leicester in a year's time.
They still need back office support - staff who can negotiate and monitor complicated contracts.
The CCG's co-chair, Professor Azhar Farooqi, says initially this will be provided for his group in Leicester and others in the county by current NHS staff - but nothing is set in stone.
He said: "In the short-term, we're planning to set up a commissioning support unit from staff previously employed by the Primary Care Trust cluster.
"But in the longer term, it's open for debate. We may continue that model, or go out to the market to get that support."
All the new commissioning activity begs a question: with NHS finances getting ever tighter, are there current services that the CCG might have to decide to withdraw?
Nick Carter, a lay member of the CCG and a former newspaper editor, said: "I'm a bit frustrated that what I see as the clear opportunities - of developing the grassroots understanding GPs have of patients' health - doesn't seem to be coming across in the debate.
"The debate has been stuck around privatisation issues. There are more substantial benefits to be had in the organisational change and the way money is spent.
"The health service always has to prioritise. It could mean there are some things where we say: 'We're not going to do that for a bit.' But that will be an informed decision, with that grassroots understanding."
In Leicester and elsewhere, the GP groups hope they can offer patients better-designed services. But NHS budgets will remain tight in the coming years - and these groups will also, at times, find themselves having to explain some tough decisions.