Care home residents lack NHS services - CQC survey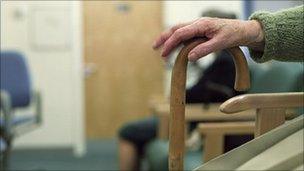 Vulnerable people in care homes may be struggling to get access to GPs and routine medicines, a review suggests.
The Care Quality Commission looked at 81 care homes in England, chosen from areas previously flagged up as at risk of poor performance.
The idea was to get a snapshot of the sort of problems being encountered.
Experts said the findings were particularly worrying as care home residents were among the most vulnerable patients.
There are more than 400,000 people in care homes. Most are elderly people, but some include younger adults with disabilities.
The CQC talked to staff, managers and residents at the care homes inspected.
Because of the small number of centres looked at, the regulator said national conclusions could not be drawn.
But it said the findings illustrated the sort of problems care homes could be struggling with.
Only staff at 38% of homes reported they got regular visits from GPs, with one in 10 care homes saying they had to pay GPs to get them to visit residents.
A third of homes also said they sometimes struggled getting medicines to residents on time.
Many homes reported long waits to get an initial continence assessment.
The regulator said both care homes and the NHS needed to address the issue.
CQC director of operations Amanda Sherlock said: "This is a responsibility which needs to be taken seriously.
"Despite having a disproportionately high level of dependence on health services, this group appear to be more disadvantaged than the rest of the population in accessing these services."
Professor Finbarr Martin, of the British Geriatric Society, said the findings were "unacceptable".
He said most of the elderly in care homes were in the final years of life and needed good access to services.
"It is time health service planners matched their obligations to ensure that the healthcare needs of this vulnerable group are adequately met."
Related Internet Links
The BBC is not responsible for the content of external sites.