Child mental health: Government invests £22m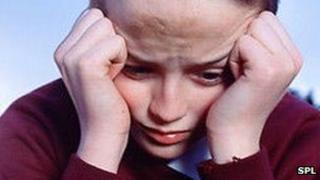 The government in England has said it will invest £22m in child mental health services to help deliver more counselling and talking therapies.
One in 10 children aged five to 16 has a mental health problem, data suggests.
Ministers say the money will be spent over three years to expand services for this vulnerable group which, until now, has often "suffered in silence".
The investment is on top of the £32m for therapies set out in the Mental Health Strategy.
At any one time, more than a million children will have a diagnosable mental health disorder, and mental illness in childhood and adolescence costs up to £59,000 per child every year.
One in two adults with mental health problems first experienced symptoms by the age of 14, and three-quarters before their mid-20s.
The hope is that earlier, focused intervention will reduce this burden by tackling conditions like depression, anxiety, self-harm and the developmental disorder attention deficit hyperactivity disorder (ADHD) head on.
Some of the money will be spent on extra training for NHS staff and those who work with young people such as teachers, social workers and counsellors.
Deputy Prime Minister Nick Clegg said: "We cannot let this issue drift or rely on adult services as a cure-all. The money we are investing today will work specifically for children on therapies that are proven to work.
"Mental health must have the same priority as physical health. Giving children the treatment they need as soon as they need it will help ensure that millions of children suffering from a mental health problem will have a fairer opportunity to succeed in life."
Young Minds chief executive Sarah Brennan welcomed the move.
"Intervening early when a child or young person starts struggling to cope is proven to reduce the likelihood of that young person developing much more severe and entrenched mental health problems," she said.