Longer cancer referral times for young, women and ethnic minorities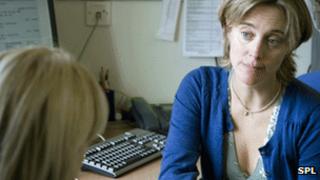 Cancer patients who are young, female or from an ethnic minority face a longer wait to be diagnosed and referred to a cancer specialist, researchers say.
Overall, 77% of people were referred after one or two visits to their GP, according to data from 41,299 cancer patients in England.
Researchers said some groups faced more visits before referral.
Cancer Research UK said making the right decision could be challenging.
The vast majority of cancers are detected after patients go to their family doctor. Screening and emergency hospital visits are the other routes.
Data from the 2010 National Cancer Patient Experience Survey in England showed that a quarter of patients needed to visit their GP at least three times before being sent to a cancer specialist.
Dr Georgios Lyratzopoulos, lead researcher from the University of Cambridge, said: "There is so much we can learn from studying this quarter.
"The biggest value of the study is to inform and guide future research."
Mixed message
The analysis in The Lancet Oncology showed 16- to 24-year-olds were more than twice as likely to have at least three hospital visits than the over 65s, which the researchers speculate may be down to doctors not expecting to find cancer in younger patients.
Those from ethnic minorities were also less likely to be referred quickly than white patients. Dr Lyratzopoulos said "the older you get the more ethnicity matters, particularly in middle and older age".
The data comparing men and women were more mixed with women being referred more quickly than men for some cancer types. However, overall men were referred to specialists after fewer visits to the GP.
It also said patients with some cancers were more likely to be referred sooner, possibly as they were easier to detect. Out of 8,408 breast cancer patients, 7.4% had more than three appointments before referral. For pancreatic cancer, which is harder to detect, 41.3% of 467 patients had more than three appointments.
Dr Lyratzopoulos told the BBC that harder to diagnose cancers "clearly have to become a bigger research priority".
"No fair-minded person would want to go to their GP six times, if they can go once," he said.
Jessica Harris, health information manager at Cancer Research UK, said: "This study highlights some of the difficulties in diagnosing cancer in primary care.
"A GP will see only around eight cases of cancer a year, on average, among hundreds of people with symptoms that might indicate cancer, so making appropriate referral decisions can be challenging, especially for rarer cancers or those with symptoms that are vague or common to other diseases.
"It's also very important for people to get to know their body and what is normal for them, and go to see the GP if they notice any persistent or unusual change and do go back if your symptom has changed, not gone away or got worse."