No trust in government's handling of NHS, poll suggests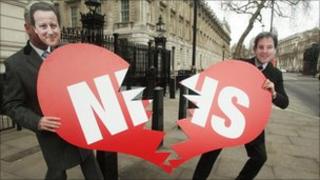 Over two-thirds of people do not trust the government's handling of the NHS, a poll commissioned by BBC Radio 5 live's Victoria Deryshire programme suggets.
Only 18% of the 1,005 adults surveyed in England think Andrew Lansley is doing a good job as Health Secretary.
Health Minister Simon Burns said the government's plans for the NHS are safeguarding it for future generations.
The poll was conducted by independent body ComRes.
When asked which political party they trusted most with the health service, one-third (32%) of people surveyed said they trusted none of them.
Labour received the highest vote of confidence at 37% and less than one in ten people said they trusted the Liberal Democrats.
Eighty percent of people did not feel the government had done enough to explain its planned reforms of the NHS, which hand control of budgets to GPs and other staff and open the service to more competition from private and voluntary sectors.
Mr Burns said: "Reform is never easy, but patients are already benefiting from GPs designing local health services and a renewed focus on improved results.
"Around the country they are being treated in more convenient places, pressure on hospitals is reducing and we are safeguarding the NHS for future generations."
Some 58% of respondents said they did not understand the government's planned changes to the health service.
Clare Gerada, chair of the Royal College of General Practitioners, said: "I'm not surprised at the poll findings. This bill is the largest piece of legislation that has ever hit us. It is phenomenal and very, very complex.
"But the one thing it won't do, and let's be very clear about this, it won't reduce bureaucracy."
On Friday, members of the Royal College of Paediatrics and Child Health joined several other Royal Medical Colleges, including the Royal College of GPs, in calling for the bill to be scrapped.
Unions and professional bodies, including the British Medical Association (BMA), the Royal College of Nursing (RCN) and the Royal College of Midwives, are also among those who want it to be withdrawn.
ComRes conducted the survey of 1,005 adults across England between 17 and 19 February 2012, weighing data to be representative of the population.