Longest organ donor chain links 60 people in US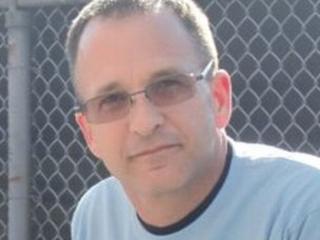 The world's longest chain of organ donations has been completed in the US, with 30 patients receiving a kidney from 30 living donors.
The chain connected people who had wanted to donate a kidney to a family member or friend, but were incompatible, with a suitable stranger.
Their loved one then received a kidney from someone else along the chain.
The complicated process lasted for four months and involved 17 hospitals across 11 states.
It started in August with a man called Rick Ruzzamenti, a 44-year-old electrician from California who decided he wanted to donate a kidney to a stranger.
It ended in December with 46-year-old Don Terry, of Joliet, Illinois, who has Type 2 diabetes and was at risk of dying of renal failure.
Because he had been unable to find a suitable donor within his family, Mr Terry had been put on a transplant waiting list and told it could take as long as five to 10 years.
A diabetes patient on dialysis typically does not have a long life expectancy and Mr Terry worried that he might not live to see his 50th birthday.
"What bothered me the most was the possibility of leaving family members like my mom and dad by themselves, and having them see their son pass away from an excruciating disease," he said.
'Love the stranger'
Mr Ruzzamenti's kidney was taken to New Jersey, to help a man whose own family wanted to donate but could not provide a suitable match.
The process continued until it reached the last donor in the chain - a 59-year-old California woman.
Her kidney was removed at the University of California, Los Angeles (UCLA) and flown to Loyola in Chicago to be given to Don Terry.
Mr Terry was unable to keep the chain going because his only sibling, a brother, is dead, and his elderly parents were unable to donate for medical reasons.
Following the surgery, Mr Terry, who is now back at work, said: "I think I have more energy now than I had when I was in my 20s.
"I have made it my life's mission to make people aware of kidney chains."
Mr Ruzzamenti told ABC News: "There's some virtue to being kind and helpful to your family and friends but that's easy.
"If the world can be kind and love the stranger and be as kind to them as to their family and friends, world problems would be solved."
Among the others who took part in the chain were Paulette Behan of West Chicago, and her younger sister, Sunni Stupka of Baldwyn, Mississippi.
Ms Behan needed a kidney transplant, but Ms Stupka's kidney did not match her immune system.
"It broke my heart," Ms Stupka said. "I felt like a failure, like I had let her down."
But thanks to the chain, Ms Behan received a kidney from a donor in Pittsburgh who matched her. In return, her sister donated a kidney to a matching patient in California.
Doctors hope that more donations like this record-breaking one can take place.
Dr John Milner, a transplant surgeon at Loyola University Medical Center said: "This is the best way for patients with incompatible donors to be transplanted quickly with the best results."
Around 400,000 Americans with kidney failure currently undergo daily dialysis, and 4,500 die each year while waiting for a transplant.
The first pooled kidney transplants in the UK took place in 2009.
The transplants involved a donor and recipient couple, who were known to each other but incompatible for transplantation, so were paired with two other donors and recipients in the same situation.