PIP implants: Over 2,800 referred for NHS care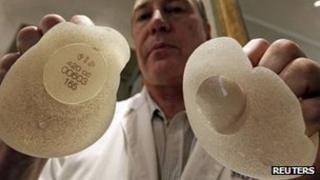 More than 2,800 women with privately fitted PIP breast implants have been referred to the NHS in England, according to government figures.
These are women whose private clinics have either refused to remove the implants, or whose clinic no longer exists.
More than 1,100 women have had their implants scanned.
Only a small number have decided to have them removed so far.
The NHS is acting as a "last resort" for women with privately fitted PIP implants.
If there is a medical need, which includes distress, and the patient cannot receive an operation from their private company, the NHS will step in to remove, but not replace, the implant.
Figures from the Department of Health show that 455 of the 2,860 women referred have decided not to have PIP implants removed by the NHS after meeting a specialist.
Sixty seven have decided to have them removed, and 12 of these operations have taken place so far.
NHS patients
Women who had PIP implants fitted by the NHS will have them removed and replaced by the health service.
Figures show 741 women had implants fitted by the NHS, largely for reconstruction after breast cancer.
Doctors have contact 653 of the patients, 17 have decided to have the operation and one had been completed so far.
Health minister Anne Milton said: "Most patients who have been forced to get help from the NHS because their private clinic has refused to support them seem, so far, to be choosing not to have their implants removed.
"This appears to show that these women are getting the reassurance they need from speaking to an expert or having a scan."
She added: "All but one of the NHS hospitals that used PIP implants have been able to contact all their patients. They have been offered a consultation with a specialist.
"The expert group does not believe there is enough evidence to advise women to have their implants removed. But it is right that women should be able to seek reassurance from a specialist."
The president of the The British Association of Aesthetic Plastic Surgeons, Fazel Fatah, said: "These figures show that a significant proportion of patients have not had the help and reassurance they need - and deserve - from private clinics.
"Judging by the number of completed episodes and removals, it's clear that only very few are opting for removal without replacement, which is entirely unsurprising.
In 2010, France banned PIP implants made with the low-grade silicone, amid fears they could rupture and leak.
Up to 400,000 women in 65 countries are believed to have been given implants.
The NHS in Wales said it would replace implants only when it was deemed medically necessary.
Women in Northern Ireland who received PIP implants for health reasons will have them replaced, but the NHS will only remove, not replace, those inserted for cosmetic reasons.
Scotland's Health Secretary Nicola Sturgeon said concerned women who had them fitted privately would be offered advice and the option of removal if necessary. There are no records of PIP implants being used by the NHS in Scotland.