Expert challenges 'myth' of falling NHS productivity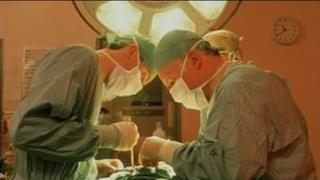 Official figures do not reflect the real improvements made in the NHS in England, according to a paper in the Lancet medical journal.
It says a myth has grown up that the health service became less productive as funding increased.
The author, a leading policy expert, says the government has used this to defend its NHS reforms.
The Department of Health said it wanted to make "every penny" invested in the NHS count.
The paper argues that politicians have reached a flawed consensus that NHS productivity fell in the decade after 2000.
Prof Nick Black from the department of public Health and policy at the London School of Hygiene and Tropical Medicine in London, who wrote the article, argues that it "probably improved".
He says assumptions that hospital productivity fell by 1.4% a year, and overall NHS productivity fell by 0.4% a year, are based on analyses by the Office for National Statistics.
He says these did not reflect this increase in community-based services, and so may have underestimated the amount of work carried out by the health service.
'Substantial improvements'
Prof Black also raises concerns over the way that changes in quality were assessed, arguing that measures of safety and effectiveness were too narrow.
"A review of a much wider range of data than was previously available suggests substantial improvements in the quality of health care", he argues.
He cites as evidence falling mortality rates, greater compliance with clinical guidelines, and improving public satisfaction.
Prof Black acknowledges "some uncertainty" surrounding these data, but he concludes that even a modest improvement in the overall figure, of 0.5% a year, would mean that productivity rose over the decade rather than fell.
He argues that a "myth" of declining productivity took hold while Labour was still in power, even amid doubts about the reliability of the figures.
"Despite warnings, estimates suggesting a decline in productivity were seized on by opponents of government policy, fuelled by journalists seeking bad news. Attempts by commentators in the medical press to point out the dangers of misinterpretation had little effect."
Prof Black says the coalition government has used concerns over NHS productivity to argue for its health service reforms.
And he says Labour has failed to defend its record in office.
"It was as if, exhausted from years in power and bruised by an election defeat, Labour's will to defend past achievements had gone. The absence of opposition resulted in a consensus that NHS productivity had indeed declined."
Jo Webber from the NHS Confederation said over the years there had been little consensus about how to measure productivity in the health service.
"It is relatively easy to measure the effectiveness of a routine hip operation in a healthy patient but it is much harder to do so for supportive care for an elderly patient or someone with complex health needs."
Shadow health secretary Andy Burnham said the analysis in the Lancet was "hugely embarrassing" for the prime minister.
"It demolishes an anti-NHS argument that Cameron and his ministers have repeatedly trotted out for their right-wing re-organisation," he said.
"Far from falling, NHS productivity increased in the last decade at the same time as the NHS was achieving record patient satisfaction."
Health Minister Simon Burns said the government had always been clear that productivity in the NHS needed to improve.
"We are investing an additional £12.5bn in the NHS but we want to make every penny count," he said.
"We know the NHS can meet this challenge. We have already made £7bn in efficiency savings over the last 18 months as performance has improved."