Commons Health Select Committee hears evidence on PIP implants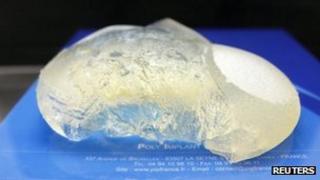 About 1,000 private patients with PIP breast implants have contacted the NHS in England.
The figure was given by Professor Sir Bruce Keogh, NHS Medical Director, in evidence to the Commons Health Select Committee.
Last month the NHS in England said it would remove PIP implants from private patients but would not replace them.
It is thought around 40,000 women in Britain have PIP implants, the vast majority of surgery being for breast augmentation performed in the private sector.
Professor Keogh said 745 NHS patients with PIP implants had so far been identified but this figure may rise. Most of this surgery was reconstructive following breast cancer.
'Uncertainty'
In December the French government recommended the removal of all PIP implants because of concerns about high rupture rates and doubts about their long-term safety.
In January an expert committee led by Professor Keogh said there was no need for routine removal but recognised the anxiety the issue was causing women.
He said there was a "significant uncertainty" about the safety of PIP implants and his committee was doing all it could to collate hard evidence; countries which had recommended the implants be removed were acting on the same information available in the UK.
Professor Keogh said there was no statutory requirement on clinics to have the kind of insurance that would have covered a fraudulent product like the PIP implants. They were banned in 2010 when it emerged that the company had been using a filler which had not undergone any medical tests.
The Chair of the committee, Stephen Dorrell MP, asked why the NHS in England was not following the example of Wales and offering to remove and replace PIP implants from all patients. He said it could not be good medical practice to force women to have two operations.
Spot checks
Professor Keogh said the Welsh offer was at odds with the advice of surgeons because replacing implants was not usually needed, and it went against the principle that the NHS did not do private practice.
He said private clinics had a moral and social responsibility to remove and replace PIP implants if that was what women wanted.
The committee also heard from Professor Sir Kent Woods, Chief Executive of the Medicines and Healthcare Products Regulatory Agency (MHRA). He said the French authorities had given them three days' notice of their decision to recommend the removal of PIP implants.
Professor Woods said the system of registering medical devices in Europe generally worked well, but attention needed to be paid to the issue of spot checks of manufacturers. It was a spot check on the PIP manufacturing plant in Toulon which finally revealed that unauthorised silicone filler was being used.