Campaign warns of drinking 'little too much' alcohol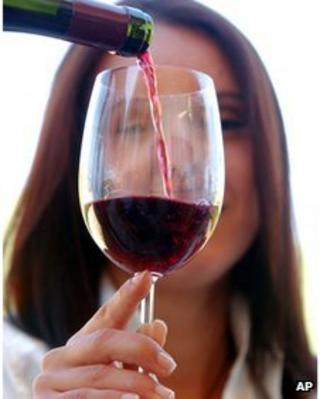 Drinking "just a little more than they should" puts people at risk of serious illness including heart disease, stroke and cancer, the government is warning.
A TV advertising campaign is being launched to press home the message.
It warns regularly drinking two large glasses of wine or two strong pints of beer a day triples mouth cancer risk and doubles high blood pressure risk.
People "should not regularly exceed" the daily limit of three to four units for men and two to three for women.
In addition to the Change4Life campaign, the government released details of a poll of 2,100 people looking at what was known about the risks linked to drinking too much.
Among the findings, the poll revealed 85% of those questioned did not realise it increases the risk of developing breast cancer.
In addition, 66% did not know it increases bowel cancer risk, 59% did not know about the raised risk of mouth, throat and neck cancer and 37% did not realise it reduces fertility.
The campaign also has a website and leaflets offering tips on how to drink less - such as having booze-free days or just using smaller glasses.
'In moderation'
Chief Medical Officer for England Prof Dame Sally Davis said: "Drinking too much is a major public health issue.
"This campaign highlights how easy it can be to use a glass of wine or beer to unwind at the end of a busy day but these drinks stack up and can increase your risk of high blood pressure, cancer or liver disease."
Dr Mike Knapton, associate medical director at the British Heart Foundation, said: "An estimated 10 million Britons drink more than the recommended limits for alcohol, which puts one in five of us at increased risk of heart disease, stroke, high blood pressure and weight gain.
"There's absolutely no reason why we can't all enjoy our favourite tipple in moderation, but don't underestimate the health risks when one glass becomes two or three on a regular basis."
And Sarah Lyness, of Cancer Research UK, said: "Alcohol can increase the risk of seven types of cancer, including two of the commonest kinds - breast and bowel cancers.
"And a recent study showed that nearly 12,500 cancers in the UK each year are caused by alcohol.
"The risk of cancer starts to go up even at quite low levels of drinking, but the more people cut back on alcohol, the more they can reduce the risk."
Emily Robinson, of Alcohol Concern, welcomed the campaign.
But she added: "Telling people they could be drinking too much can't be our only solution to the country's alcohol problem.
"We also need to see minimum alcohol pricing brought in as soon as possible, as well as making sure high quality services are available for people who may have developed a serious alcohol problem."