Patients 'more likely to die' if admitted at weekends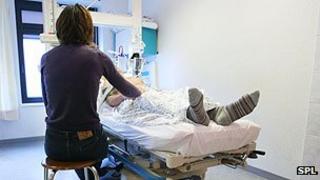 Research which suggests that patients are more likely to die in hospital if they are admitted at the weekend has been backed up by a major study.
The study, in the Journal of the Royal Society of Medicine, found that patients were 16% more likely to die if they were admitted on a Sunday than mid-week.
The review looked at all admissions to NHS hospitals in England in one year.
The NHS medical director has called for weekend services to be extended.
The research was carried out at University College London and the universities of Birmingham and East Anglia, and covered more than 14 million hospital admissions - both emergency and planned.
The study looked at more than 187,300 patients who died within 30 days of being admitted to hospital during 2009-10.
The researchers found higher death rates if patients went in at the weekend, but a slightly lower death rate if people were already in hospital at the weekend.
For every 100 deaths following admissions on a Wednesday, 116 occurred for admissions on a Sunday - a "significant increased risk", the researchers said.
They added: "We identified a significantly higher risk of subsequent in-hospital death during the 30-day follow-up period associated with admission during the weekend (Saturday or Sunday), compared to mid-week days.
"Admission on Tuesday through Friday was associated with the lowest risk of in-hospital death, while admission on Sunday was associated with the highest risk.
"Admission on Saturday was associated with a marked increased mortality (death) risk and admission on Monday was associated with a less, but statistically significant, increased risk."
Researchers said the results were consistent with data from 254 not-for-profit hospitals in the United States, which they also analysed.
'Poor access'
Lead researcher Professor Domenico Pagano, from the University Hospital Birmingham Foundation Trust, said the results offered conclusive evidence.
"These results confirm previous reports of increased 30-day mortality risk for patients admitted to hospital with emergency conditions at the weekend compared with the rest of the week."
He said several reasons might be behind this, including the fact that that patients who were seriously ill could find themselves admitted on weekends.
If they were less ill, they would have had their admissions postponed until a weekday.
Prof Pagano also said reduced staffing and fewer senior doctors on duty, as well as poor access to diagnostic tests at weekends, could have an effect.
His team said seven-day access to "all aspects of care" could improve the outcomes for higher-risk patients currently admitted at weekends.
The medical conditions resulting in the biggest number of in-hospital deaths included pneumonia, congestive heart failure, heart attack, septicaemia, acute renal failure, urinary tract infection and neck or hip fracture.
'Compassion'
Sir Bruce Keogh, the NHS medical director who co-authored the study, told Radio 4's Today programme that the trend was clear, although the researchers had not fully diagnosed its causes.
"We've tried to take account of the severity of illness and we're not clear yet whether it's the severity of illness or the way we deliver services that are the key thing."
He also said he thought the research added weight to the argument to extend NHS services through the weekend.
"It's about our NHS catching up with other service industries and offering a routine six- or seven-day week where people can see consultants or experts on a Saturday and maybe even a Sunday, where people can have routine operations over the weekend - more at their convenience than the convenience of the service - and also people who are worried on a Friday have access to expert advice - and that'll put the compassion back into the NHS."
Dr Mark Hamilton, a physician and broadcaster, told Radio 5 live Morning Reports that there were differences in staffing at weekends.
"During the week you have teams of doctors around the hospital and at weekends and at nights you have on-call teams, so you will still have the same doctors but you won't have the same number of doctors.
"Certainly the most senior doctors may not be there."
Previous studies have found higher death rates for emergency admissions.
A report in November found that patients needing emergency care were almost 10% more likely to die if they were admitted at weekends, and were less likely to receive prompt treatment.
The new research covers all admissions.