Cycling-mad Dad on battling his brain cancer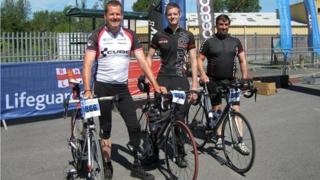 Daryl Gittins has discovered an inner determination he did not know he possessed.
"You have to make a decision after being told you have a life-threatening illness.
"When my surgeon said he had witnessed people with the right attitude survive against the odds, I wanted to change the way I thought."
"I wanted to keep looking into my children's eyes."
Daryl's journey of self-discovery began in 2008 when he was devastated to be told he had two tumours in his brain.
"I couldn't believe it when I was given the diagnosis. My brother died from brain cancer when he was 19. I never thought I'd have to deal with it myself."
Daryl, who is 46, remembers the symptoms which alerted him to the tumours in his brain - a pounding head, hearing problems tunnel vision, nausea and memory loss.
"It felt like my intelligence was draining away, but my GP said it was just stress."
Following a scan, he was informed that he had slow-growing Grade II tumours, called gliomas, which doctors have told him are incurable.
Amputation
Although the tumours cannot be removed completely, he has had two operations on his brain to cut out the parts that can be removed.
After the first operation in June 2008, he was determined to give himself the best possible chance of a long and healthy life.
So his love affair with cycling began.
"I bought a touring bike after the surgery because I'd lost my driving licence and I wanted my freedom back."
Living in a remote corner of south west Wales, near Trap, it was a convenient way to get around.
Yet Daryl could not have predicted that just two months later he would be learning to walk again, after losing part of his left leg due to a blood clot in his artery - a side effect of the brain tumours.
"I didn't expect to lose a limb but I just got on with life," he says.
By Christmas Day he had a prosthetic leg and was able to stand eye-to-eye before his wife and three sons again.
A few weeks later he was back on his bike, using a suction limb to attach to the pedals.
Over the last few years he has cycled thousands of miles up and down the Black Mountains, getting fitter and healthier by the day.
"When I started cycling I used to walk up the steep hills but now I just keep on going and I never get off.
"I love the solitude and the views but I also enjoy the companionship of riding with cycling clubs and with my family."
Cycling has become a passion which made him fit enough and fast enough to be classed as a national rider in the category of amputee.
He also narrowly missed out on a chance to qualify for the 2012 Paralympics.
Only a second bout of surgery, brought on by problems with his vision, forced him to miss the event - but he is philosophical.
"I was disappointed, but my family and my health comes first. Cycling is a big part of my life but since the surgery I am cycling for my fitness and to raise money for charity."
In the last year alone Daryl has raised £12,000 for the charity BrainsTrust.
Daryl has some advice for people in a similar position to him, who are facing an uncertain future with an incurable disease.
"Don't let people write you off. Show other people and yourself what you can achieve."