Measures 'reduced suicide rate'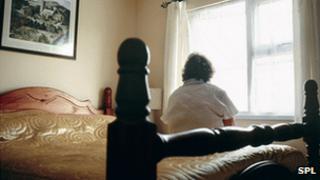 Measures introduced to lower the suicide rate in England and Wales in the past decade appear to have been successful, according to an analysis.
The study, published in the Lancet, said there had been little evidence on which strategies were actually working.
It said interventions such as round-the-clock community "crisis teams" had led to 200-300 fewer deaths from suicide each year.
The Royal College of Psychiatrists welcomed the findings.
In 2001, a series of recommendations were made to reduce suicide in people receiving mental health care.
It included setting up 24-hour crisis teams, plans for patients who refused treatment and holding reviews after all suicides.
However, they were not instantly adopted, and NHS mental health trusts introduced the measures at different times.
This allowed researchers at the University of Manchester to analyse the impact of introducing the reforms.
Prevention
Nine of the recommendations were analysed. At the end of the study in 2006, the suicide rate was 9.1 per 10,000 patient contacts in a year for authorities which had introduced at least seven of the measures. The rate was higher, 11 per 10,000, for those which had introduced six or fewer.
Prof Nav Kapur, from the University of Manchester, told the BBC: "We estimate that there were 200 to 300 fewer suicides per year" as a result of the measures.
His colleague Prof Louis Appleby said: "There has been very little evidence on what makes services safer.
"The community care reforms of the last decade seem to have had a positive impact on patient suicide - providing more intensive support to the most vulnerable patients appears to have improved their survival."
The way the study was conducted means it cannot say that the reforms caused a reduction in suicide rate, as other changes in society at the time could have had an impact.
However, by comparing figures immediately before and after the reforms, the researchers are confident that the changes did have an affect.
Dr Yeates Conwell, from the University of Rochester Medical Center, said the work was "important" as: "We cannot take for granted that even the most seemingly obvious intervention designed to reduce suicide is necessarily effective without evidence."
She added: "While necessary, an approach that targets only high-risk individuals will have a marginal effect on overall suicide rates, because most people who take their own lives have had no contact with mental health services."
Dr Peter Byrne, from the Royal College of Psychiatrists, said: "We welcome this excellent study showing how local implementation of comprehensive mental health services reduces the number of people who die by suicide.
"It proves the value of investing in safe psychiatric wards, close follow-up of discharged patients and specialised teams."