Fake drugs given to NHS patients still untraced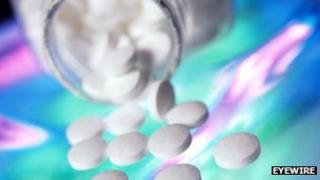 Only eight people out of several thousand who received counterfeit drugs from the NHS in an incident in 2007 have been identified.
Of those eight, only three have been informed about the incident, a BBC investigation has learned.
72,000 packs of counterfeit drugs entered the UK supply chain in 2007 but 25,000 remain untraced.
The regulator, the MHRA, has said it took swift action in 2007 and issued its "most serious recall notice".
A new EU directive will further improve patient safety, it added.
In the spring of 2007, the Medicines and Healthcare products Regulatory Agency (MHRA) issued an emergency recall of drugs which had been identified as counterfeit.
Those recalled included batches of the prostate cancer drug Casodex; of a drug used to treat heart complaints called Plavix; and of Zyprexa, which is used to control the symptoms of schizophrenia.
The MHRA successfully seized 40,000 packs before they were distributed to pharmacies but 25,000 reached chemists across the UK and were dispensed to patients - a further 7,000 were recovered following a recall.
Weakness in supply chain
A Freedom of Information request submitted by the BBC's 5 live Investigates programme asked the MHRA how many of the thousands of patients who had received the counterfeit drugs had been identified and informed.
The regulator told the BBC it had identified just eight patients who had received drugs described as either Zyprexa or Plavix - all but one were residents of care homes.
One patient identified returned their counterfeit batch to a pharmacy in Croydon.
Of the seven remaining patients, only two are known to have been informed of the incident.
Following a £750,000 investigation by the MHRA, Hertfordshire-based businessman Peter Gillespie was jailed for eight years in 2011 for conspiring to defraud pharmaceutical wholesalers, pharmacists and members of the public.
Currently, there is no obligation from wholesalers down to individual pharmacies to record the batch numbers of the drugs they receive and chemists do not record which are dispensed to patients.
An MHRA spokesperson said it was currently considering options for strengthening the supply chain in the UK and that a new EU directive - the Falsified Medicines Directive - which will come into force in January 2013 will also increase controls.
Charles Willis from the Royal Pharmaceutical Society, the professional body for pharmacists, fears the new EU rules will still not sufficiently protect patients in the future.
"Although the Falsified Medicines Directive would crack down on fake drugs getting to patients, we need to be working at extending the recall process so that each pack can be traced to individual patients," Mr Willis told the BBC.
"We realise the practicalities behind this are a challenge, with every patient needing to be identified, but as it stands the new directive would still not allow patients to be matched to individual packs of drugs when problems arise."
The MHRA says it took swift action back in 2007 to ensure medical professionals and the public were made aware of the counterfeit drugs.
"We issued our most serious recall notice - a Class One Drug Alert - for immediate action which goes to healthcare professionals as well as over 21,000 subscribers.
"We supported this with a press release to reinforce awareness amongst the public."
The MHRA said that it was rare for fake medicines to get into the healthcare supply chain and the case should be seen in the context of more than 900 million prescriptions dispensed every year.
You can listen to the full report on 5 live Investigates on Sunday, 29 January at 21:00 GMT on BBC 5 live.
Listen again via the 5 live website or by downloading the 5 live Investigates podcast.