Elderly 'suffer as social care spending cut'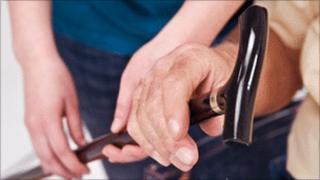 Spending on social care for the elderly in England is falling this year - despite the assurances of ministers, an analysis by campaigners suggests.
The Age UK report said £7.3bn was being budgeted this year - the same as in 2011 - but it represented a drop of 4.5% once inflation was taken into account.
The charity said the squeeze meant thousands were missing out on care.
But ministers said there should be enough money available to avoid cuts.
The report, based on official data plus Age UK's own research, comes amid mounting concern about the state of social care, which includes help in the home with activities such as washing and dressing as well as residential care places.
Ministers have promised to publish plans in the spring to reform the system to ensure it is sustainable in the long term.
But following the Spending Review in 2010, they said extra funds would be made available for social care - including money from the NHS budget - to help councils out.
This is because of the wider cuts to local government funding - over the next four years its budget from central government will be reduced by a quarter, leading to cuts in everything from leisure centres to libraries, which are being seen across the country.
The Age UK report argues that despite the extra money social care has not been able to escape unscathed from the cuts programme.
The analysis shows that councils are reducing spending by 4.5% - £341m in monetary terms.
But the report said that if rising demand from the ageing population were taken into account, the drop would be closer to £500m.
And the charity predicted the situation would get even worse in the coming years.
'Struggling'
The report said the squeeze on spending had led councils to restrict access to services as well as increasing the fees they charged - only the poorest got their care completely free.
Age UK believes there are 2m people in England with care needs, 800,000 of whom are not getting any formal support.
Michelle Mitchell, charity director of Age UK, said: "Behind these figures are real older people struggling to cope without the support they need, compromising their dignity and safety on a daily basis.
"Social care is not a nice-to-have extra - it is the support that helps older people get out of bed, feed themselves, have a wash and live a life that is more than just an existence."
Care services minister Paul Burstow said: "We believe councils have enough to maintain the current levels of access and eligibility but they will need to work hard and smart, and invest in things like telecare and re-ablement [helping people regain skills] to free up more money for front-line services."
But he said he recognised the system needed improving for the future and that was why a White Paper would be published in the spring.
David Rogers, of the Local Government Association, said councils were doing the best they could.
"These figures highlight what we already know - there isn't enough money in the system and without fundamental reform the situation is only going to get worse."
Shadow care services minister Liz Kendall said: "This report provides yet more evidence that there is a growing crisis in care for older people."