'Jaw replacement surgery ended my unbearable pain'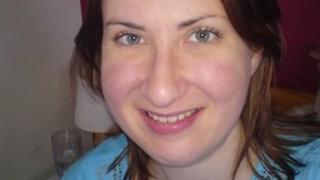 Music teacher Lauren Reed remembers waking up from her jaw replacement operation without a headache. It was the first time in 20 years she had been without the pain.
"It is amazing, it's like they worked a miracle. I went through terrible pain every day of my life before the surgery. I used to escape from my desk at work and cry for 20 minutes, it was so unbearable."
Just over a year ago 33-year-old Lauren was given a new metal jaw. The procedure involved breaking her upper jaw and moving it into a new position and replacing both of her jaw joints which were dislocated and had worn away.
It was the first time these operations had been performed simultaneously in the UK.
Lauren's pupils saw an immediate change in their teacher in the aftermath of the surgery.
"They said, 'Miss is a bit different now'. I've got so much energy, I'm bouncing around like a 20-year-old."
But there were many years when Lauren's jaw pain was debilitating.
As a child, she suffered from constant pain in her jaw and blinding headaches - due to temporomandibular joint disorder - pain or reduced movement in the jaw joint.
'Tiny mouthfuls'
"I couldn't sleep or eat properly. I just couldn't function. It was like seeing the world through a grey fog. I was a miserable person."
The pain was sometimes so severe that she could not bite anything.
"I was embarrassed to eat with other people or go out. I had to eat tiny little mouthfuls and often my face would hurt so much I would have to stop eating.
"It would just get too exhausting and I started losing weight too."
She had surgery to correct the problem in her 20s while at university in Yorkshire, but it wasn't successful, leaving her in even more pain than before.
At night, she was plagued by grinding teeth and a constantly clicking jaw bouncing in and out of its socket.
Ten years went by as Lauren learned to live with the pain by relying on painkillers - and sheer willpower.
Virtual model
Then her dentist referred her to a joint clinic at King's College Hospital in London, run by a maxillofacial surgeon, Mr Shaun Matthews, who convinced her that a completely new jaw was the only option.
"I was in so much pain that I didn't really care any more," Lauren says.
"I didn't even think about what I would look like - I just wanted the pain to end."
Working via computer with a company in Colorado which makes the titanium joint replacements - which are not made in the UK - Lauren's implants were created specially to fit using 3-dimensional scans of her head and jaw.
Such was the complexity of the nine-hour operation, that the US team created a virtual model of the patient's bone anatomy to help Mr Matthews prepare for the operation.
"They [the US team] tell me where every single screw goes, they make guides for me on where to cut so I know I am removing the correct amount of bone.
"It's constructed so precisely, it's like a jigsaw puzzle fitting together," Mr Matthews says.
The new jaw joint works like a hinge on a door, fitting into a socket made out of extremely durable plastic. The metal implant is fixed to the lower jaw with screws.
Jaw joint problems are very common, with one in four people affected, he explains, and it is no surprise since the jaw is the most used joint in the human body.
'Agony'
Sheri Conklin is another of Mr Matthews' patients who received metal jaw implants after arthritis ate away her jaw joints.
Forty-five-year-old Sheri, from London, had jaw replacement surgery in 2008 when she could barely open her mouth because of the pain.
"I was in agony just trying to talk and I had terrible headaches. I couldn't lie on a pillow, I couldn't hold a phone to my ear or even let hair touch my face.
"It was relentlessly grim; I was just existing."
Immediately after the operation, she knew the pain had gone. Two days later, she stopped taking morphine, which she had been using to kill the pain.
"The operation completely changed my life. I'd spent more than seven years not working because of my health. I never though I'd work fulltime again."
She is now a PA to the chair of a big company and has started modelling vintage clothes.
Normal again
The restriction with the implants is that they only allow up and down movement. The new jaw can open and close, but not move from side to side.
And the implants will not last forever. They will need to be replaced at some point, in around 15 to 20 years.
But neither Sheri or Lauren is the slightest bit bothered. They have their lives back, and they can both eat and talk normally again.
Yet Mr Matthews says few dentists and GPs are aware that jaw joints can be replaced and that people with these types of problems can be helped.
"Many of the people I see have chronic pain; they can't eat, chew, talk - the stuff we all take for granted."
For them, a new jaw is everything.