NHS shake-up: Medical leaders consider position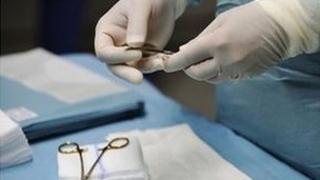 Talks between ministers and medical leaders have taken place over concerns about changes to the NHS in England.
The Academy of Medical Royal Colleges, which represents 20 groups, held a meeting on Tuesday night to discuss their opposition to the plans.
A draft statement was drawn up which the BBC understands said the medical establishment could not support the overhaul plans in their current form.
However, it is unclear whether it will be signed off.
The view of the royal colleges, which are the professional bodies in the NHS that set standards in areas such as training, is seen as key in the current climate.
'Serious concerns'
Unions have already come out to say the overhaul should be scrapped, but ministers said this had been motivated by the row over pay and pensions.
This week an influential group of MPs said the changes were hindering the NHS as it attempts to make the savings it needs to safeguard patient care.
If the medical royal colleges toughen their stance, it could provide a devastating blow to the government's attempts to get its changes through parliament.
The bill underpinning the changes is due back in the Lords next month.
The meeting on Tuesday night was followed by a series of discussions between ministers and the colleges on Wednesday.
The BBC also understands some colleges are not convinced a hardening of their position is the right move. The Royal College of Surgeons has made it clear it would not sign up to the draft statement.
The academy, which in the autumn said it had serious concerns about the plans, particularly in the areas of accountability, competition and training, is now due to meet the three key health unions on Thursday night.
The academy confirmed it had had discussions about its "continuing concerns", but would not be making a statement at the moment.
But the government has indicated it was ready to push ahead with the changes regardless of what happens.
A Department of Health spokesman said: "There will always be some people who oppose changes to the status quo in the NHS.
"We have listened and we have made changes which have been widely welcomed including by professional bodies. But this process cannot go on forever. Changes are needed and we want the NHS to be able to make them in the interests of patients."
The developments came after the prime minister and Labour leader Ed Miliband clashed during Prime Minister's questions on Wednesday.
Mr Miliband said it was time for the bill should be scrapped.