Bid to stop doctor gagging orders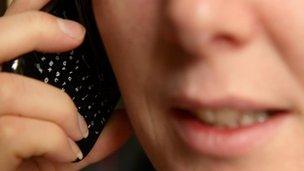 Doctors are being told they can no longer sign contracts that contain gagging orders, in new guidance issued by the medical regulator.
The General Medical Council advice states medics should not enter contracts or deals that seek to stop them raising concerns about poor care.
The guidance also makes clear that doctors have a duty to act if they believe care is being compromised.
It is the latest in a series of attempts to encourage whistle-blowing.
Evidence has been emerging in recent years of trusts restricting the ability of staff to raise the alarm about bad practices.
Nurse Margaret Haywood was struck off in 2009 after filming examples of neglect at Brighton's Royal Sussex Hospital for a BBC Panorama programme. She has since been reinstated.
This followed the controversy over Stafford Hospital which inspectors criticised for appalling standards of emergency care after "patients needlessly died".
Subsequent reports picked up on the lack of whistle-blowing over the years.
Ministers have produced their own policies encouraging whistle-blowing and a helpline was launched at the start of this year for staff with concerns.
The GMC guidance, which will come into effect on 12 March, is being sent to all 240,000 doctors on the medical register in the UK.
It also includes advice about when doctors should raise concerns and how to tackle any barriers that they may face.
GMC chief executive Niall Dickson said: "These clauses are totally unacceptable.
"Doctors who sign such contracts are breaking their professional obligations and are putting patients and their careers at risk."
Related Internet Links
The BBC is not responsible for the content of external sites.