UK boosts tropical disease fight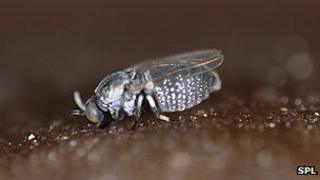 Foreign aid for efforts to eradicate parasitic diseases which kill and disfigure millions worldwide is to rise fivefold, say ministers.
A total of £245m will be spent fighting diseases such as river blindness and bilharzia.
Such donations, coupled with free drugs from pharmaceutical companies, could help wipe out some illnesses, they predict.
A UK expert said the aim was to offer a billion treatments worldwide a year.
So-called "neglected tropical diseases" receive a tiny fraction of the funding set aside for the fight against major killers such as HIV, TB and malaria.
However, campaigners say that even a relatively small investment could transform the lives of millions of people in poorer tropical countries.
The Department for International Development, announcing the aid package, said that over the next few years, the money would protect an estimated 140 million people from these parasitic infections.
Among the prime targets are elephantiasis, a mosquito-borne parasite which leads to abnormal enlargement of the limbs and genitals, and bilharzia, spread through contaminated water, which impairs child growth, damages internal organs and can lead to death or chronic ill-health.
River blindness, the third key disease, is spread by parasitic worms and cause severe discomfort and sight loss.
Finally, Guinea worm, another water-borne infection, can leave people bedridden for months before the parasitic worm, which can grow up to 3ft (91.4cm) long, emerges.
'Debilitating pain'
There are effective drugs to either prevent or treat all of these infections, and the decision by pharmaceutical companies to supply them free of charge in affected countries means it is possible to reach many millions of people.
International Development Minister Stephen O'Brien said: "These diseases thrive on poverty and have horrendous consequences for sufferers, especially children, leaving them in debilitating pain with severe disabilities.
"The world is increasingly coming together to build on the long-standing commitment of the pharmaceutical industry to rid the world of these terrible diseases.
"British support will take the 'neglected' out of 'neglected tropical diseases' and will not just save lives but transform lives."
Professor David Molyneux, from the Liverpool School of Tropical Medicine, a long-standing campaigner for more international funding, said he was "delighted" by the announcement.
He said: "As far as the British taxpayer is concerned, this money will offer more health to more people than anything else - it really is the most effective use of the money.
"Currently we are treating approximately 800 million people a year, and we're aiming for a billion."
Save The Children head of health Simon Wright also welcomed the move. "This is a great start for the millions of children who can't get treatment for basic illnesses which are completely unknown in rich countries.
"The British public should be proud of their role in combating these awful diseases."