PIP implant review could result in new insurance scheme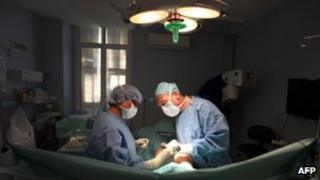 An insurance scheme for cosmetic surgery patients could be introduced after the PIP breast implants scandal.
Sir Bruce Keogh, who is leading the government review into PIP implants, told the BBC the scheme would protect consumers.
Although there is no clear evidence PIP implants cause harm, the NHS will remove and replace those it fitted.
But patients who were treated privately are being told by most clinics they must pay for the procedure.
About 40,000 women in Britain have implants made by the French firm Poly Implant Prothese (PIP).
The 3,000 cancer patients who had them for breast reconstruction will have their implants replaced for free by the NHS for compassionate reasons to ease the concern of patients.
But that leaves thousands of women - fitted with implants that contain industrial silicone that is not supposed to be in human bodies - with no official recourse for help.
The three leading clinics which performed breast implant operations, and which would have used the PIP products, are Transform, the Harley Medical Group and Surgicare.
All three have declined to offer free replacements for their patients despite the government saying they have a moral obligation to their customers.
An insurance scheme for future cosmetic surgery patients would offer greater protection for consumers in these scenarios.
Sir Bruce Keogh, the NHS medical director, was appointed by Health Secretary Andrew Lansley in December to lead the review into PIP implants.
Protecting consumers
He told Radio 4's The Report the scheme being considered would work much like the insurance protection scheme in place in the travel industry.
"One of the things my review will be looking at will be... something like the Abta arrangement, which means that when a company runs into trouble for whatever reason, the consumer is covered," Sir Bruce said.
The Association of British Travel Agents (Abta) offers financial protection for its members and their customers should something go wrong.
Companies pay a subscription to become members of Abta, which then provides a fund for people to fall back on should there be a problem.
Sir Bruce said this model "captured the flavour of where we want to go," but said he did not want to pre-empt the recommendations from the review.
Jim Frame, professor of aesthetic plastic surgery at Anglia Ruskin University, supports an insurance system under which the patient would pay a premium but if a problem occurred with implants years after they were put in, there would be "an all-expenses paid replacement of a ruptured implant, absolutely no hassle and we do not have to worry the NHS."
Professor Frame also supports a breast implant registry which is likely to be reintroduced to record details of all operations.
A registry did exist between 1993 and 2006.
The inquiry team will meet in two weeks' time to review the data from private clinics about the failure or rupture rate of PIP implants.
Further tests are also being conducted on the industrial silicone which was used in the implants, to determine how toxic it was.
This edition of The Report was on BBC Radio 4 on Thursday, 19 January at 20:00 GMT.
Listen to the full programme via the Radio 4 website or download the programme podcast.