Aspirin - risks and benefits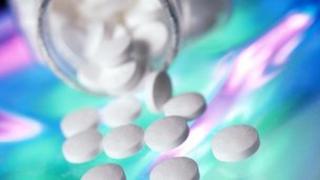 More evidence has emerged of the conflicting benefits and risks of aspirin.
An analysis of nine medical trials involving over 100,000 people without a history of cardiovascular disease found that aspirin was more likely to do them harm than good.
Half the participants took aspirin, the other half a placebo; the studies lasted on average six years.
The researchers, writing in the Archives of Internal Medicine, found aspirin reduced the risk of cardiovascular disease by 10% but this was offset by a 30% increase in the risk of serious internal bleeds.
Professor Kausik Ray from St George's University of London told me: "Taking aspirin resulted in one fewer fatal heart attack for every 162 people over a six-year period. But among the same group you'd have about 2.5 extra serious bleeds, in the stomach or in the back of the brain, which could be fatal."
Whenever studies like this are published it immediately worries people who are taking the medication in question. So let's be clear. The strong advice - from these researchers and from other experts - is that those WITH a history of cardiovascular disease - such as heart attack or stroke - should continue with daily aspirin.
This is what's known as secondary prevention. And the evidence shows it works.
But aspirin is also prescribed as a primary prevention technique - for those without cardiovascular disease but who may be considered at risk of these conditions.
Indeed in 2005 guidelines were published which recommended low-dose daily aspirin for the over-50s who had a risk of cardiovascular disease - such as high blood pressure.
The guidelines are in the process of being updated and will be published later this year.
Dr Mike Knapton, associate medical director of the British Heart Foundation, welcomed the new research: "This is really helpful as it's been a bit of a murky area about who should receive aspirin. Now it's clear. If you have established heart disease you should take aspirin (unless there are contraindications) and if you don't fall into that category, then you should not."
Dr Knapton said simply being overweight, over 50, or with high blood pressure, were not enough on their own, despite them being risk factors. To fall into the group with cardiovascular disease you need to have symptoms such as angina (heart pain), and clogged arteries diagnosed following tests.
This research adds to other evidence that aspirin should only be used to ward off heart attacks and strokes in those with obvious cardiovascular disease.
This study does not settle another question - whether daily low dose aspirin can help prevent cancer over the long term. The researchers found no benefit over six years, but they admit that the effects of long-term use might not show up with regard to cancer until much later.
A major analysis of studies in 2010 suggested daily low-dose aspirin could have a significant protective effect.
Researchers at Oxford University followed up patients over two decades and found their overall risk of dying from cancer was cut by a fifth.
That study suggested that the cancer prevention benefits outweighed the risks of internal bleeding.
Not for the first time, there is conflicting evidence on the effects of aspirin which - hopefully - future studies will resolve.
Update 11 Jan
Thanks for your questions. I decided to take a daily low-dose aspirin following Prof Peter Rothwell's research last year based on the possible cancer reduction risk. I am continuing with that, but stress it is a personal decision - not a proposal to any readers of this blog. You can read my original blog post here.