PIP breast implants: No concern, says leading clinic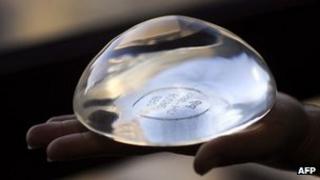 A private cosmetic surgery company, which operated on about a third of the women fitted with banned PIP breast implants, has insisted there is no cause for concern.
The Harley Medical Group said it fitted 13,900 women with PIP implants between September 2001 and March 2010.
It said its records showed the risk of an implant rupturing was not high.
The government says private clinics have a "moral duty" to remove implants they fitted.
The Harley Medical Group said only 1.3% of implants ruptured within four years of being fitted.
It has not yet indicated whether it will remove the implants.
Who pays?
About 40,000 women in the UK have implants made by French company Poly Implant Prothese (PIP).
On Friday the Health Secretary, Andrew Lansley, said patients fitted with PIP implants on the NHS for breast reconstruction would have them replaced.
He added: "We believe that private healthcare providers have a moral duty to offer the same service to their patients that we will offer to NHS patients - free information, consultations, scans and removal if necessary."
If clinics refuse, the NHS will pay to remove the implants.
The government said it would: "Pursue private clinics with all means at its disposal to avoid the taxpayer picking up the bill."
Another company, Transform, blamed the Medicines and Healthcare products Regulatory Agency (MHRA) for the health scare.
Its chief executive Nigel Robertson accused the MHRA of a failure in its duty to "monitor and routinely audit" the use of the implants.
"The NHS and the cosmetic surgery industry used these products because they had been approved by the MHRA for medical use and carried a CE mark to that effect," he said.
The agency must bear responsibility for the current situation, he added.
The MHRA said the CE mark had to be authorised though an independent third-party organisation in all but the lowest risk products.
It added: "The MHRA's key role is to monitor and investigate reports of device-related adverse incidents and take appropriate action to prevent their recurrence."