IVF: Frozen embryo babies heavier and healthier - study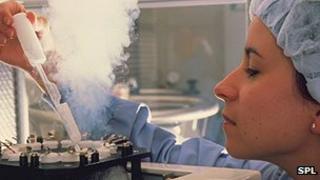 IVF babies born from frozen embryos are heavier and result in longer pregnancies than those born from fresh embryos, research suggests.
A study presented at the British Fertility Society annual meeting says transferring frozen embryos may lead to healthier babies.
But the reasons behind the findings are unclear, the researchers say.
All the babies were single births, with no twin or triplet pregnancies included in the study.
The study, carried out at the Centre for Reproductive and Genetic Health in London, involved measuring the weight and length of gestation of 384 babies born after fresh embryo transfer and 108 born after frozen embryo transfer.
Freezing embryos enables couples to have several cycles of IVF with eggs collected during one round of treatment.
By freezing some embryos, couples can use up their fresh ones before moving on to frozen ones at a later date.
The results of the study showed that babies born from frozen embryos were, on average, 253g (0.56lb) heavier than those born from fresh embryos.
The proportion of low birthweight babies (weighing less than 2.5kg) was also lower in this group - 3.7%, compared with 10.7% of babies born from fresh embryos.
Frozen embryo babies typically had a longer gestation period (an average of 0.65 weeks longer) than those born from fresh embryos, the research also found.
'One at a time'
Lead researcher Suzanne Cawood, deputy head of embryology at the Centre for Reproductive and Genetic Health in London, said the study was important because prematurity and low birthweight were both risk factors for poorer health in later life.
"This means that resulting babies may potentially be healthier if frozen embryos are transferred rather than fresh embryos.
"The reasons behind these findings are not yet fully understood, but one possibility may be that there is a difference in the uterine environment between fresh cycles, when embryos are transferred soon after the eggs have been collected, compared to frozen cycles when the uterus has not been stimulated in the days before transfer."
But she said further research was needed to test the hypothesis.
Infertility Network UK chief executive Clare Lewis-Jones said the new study supported the move to transferring only one embryo at a time.
This cuts down the multiple pregnancy rate - which is higher in IVF than natural conception - with health benefits for mother and baby.
She said: "These initial findings, if proved accurate following further research, will give the medical profession more evidence to encourage patients to accept single embryo transfer, which reduces the risks of multiple births to both mother and babies.
"Single embryo transfer gives the best possible outcome - a healthy singleton baby - with the chance of further frozen embryo transfers in the future."