Whooping cough cases increase in England and Wales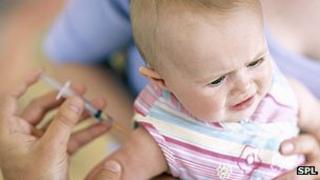 Cases of whooping cough in England and Wales have more than doubled in the past year, says the Health Protection Agency.
HPA figures showed cases increased from 421 in 2010 to 1,040 in 2011, which is around the level reached in 2008.
The rise was seen mainly in teenagers and adults aged 15 to 40, although the illness can affect all ages.
Parents should ensure their children are up to date with vaccinations, the HPA said.
Dr Mary Ramsay, head of immunisation at the HPA, said it was important that children were protected from the illness.
"The uptake of the vaccine which protects against whooping cough is very good but it is a highly infectious disease so when there is a case it can spread quickly.
"Parents should ensure their children are up to date with their vaccinations so that they are protected at the earliest opportunity.
Children are offered a whooping cough vaccine at two, three and four months of age as part of the routine childhood vaccination programme.
Dr Ramsay said: "The pre-school booster is also important, not only to boost protection in that child, but also to help prevent them passing the infection on to vulnerable babies, as those under four months cannot be fully protected by the vaccine."
The HPA also said that children who receive all the necessary doses would build up and keep high levels of immunity to the disease.
Symptoms
Whooping cough, also known as pertussis, can be a serious illness, especially in the very young.
The main symptoms are severe coughing fits which, in babies and children, are accompanied by the characteristic "whoop" sound as the child gasps for breath after coughing.
Very young children have the highest risk of severe complications and death.
Whooping cough in older people can be an unpleasant illness, but does not usually lead to serious complications.
The infection can be treated with a course of antibiotics to prevent the infection spreading further but young infants may need hospital care due to the risk of severe complications.