Social care fees: Your stories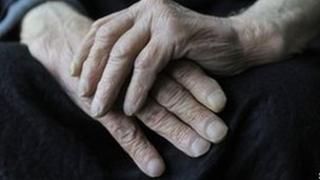 The cost of council services for elderly and disabled people has risen sharply, Labour has warned.
Data from 93 out of 153 councils in England showed fees for meals on wheels has gone up by 13% over the last two years.
The government said local authorities were responsible for non-residential care and changes should be affordable.
BBC News website readers share their stories on how the rise in social care fees has affected them.
Nick Hanning, Kent
My father who is 86 receives carers to look after him four times a day for half an hour at a time.
Since fracturing his hip, he's had mobility problems and has difficulties in walking including going to the toilet.
I live with him but I work so he needs help when I'm not there.
Unfortunately, he has to pay for the service - he pays £600 a month but with the new rises from January 2012, this amount will go up to £750 a month, a 25% increase.
This now takes all of the money he receives each month along with the exorbitant domestic bills we all have to pay.
Before, our county council took 85% of my father's private pension into account for what he paid for social care. But now, the council is taking into account 100% of his pension.
The extra money will not improve or change the care received.
He will soon have to dip into what little savings he has.
It is heart-wrenching that for 50 years he has contributed towards his pension, and he will soon have little to show for it. This has made me think again about getting a private pension.
He's now immensely cautious about money - there were no Christmas presents this year.
The government says it is looking after the elderly but that's a farce.
Tony Reeves, Gloucester
My dad is 83 and lives on benefits with no savings or income.
Four years ago he was diagnosed for dementia.
He lives on his own and as I live over 100 miles away, I asked for help from social services, my dad's GP, and the local council.
But because he has been assessed as not being a danger to anyone and that he is able to communicate, he was not a high enough risk to receive help.
Also, the council stopped meals on wheels and privatised it - they said there were no slots available for my dad so he had to sort out his own meals.
His social worker passed him to mental health and they passed him to a private company.
So now my dad pays for his own meals (£6.50 per meal) and his own help (£13 per hour).
A local charity got us in touch with a local meal provider and a company that provides health care visits.
The sad fact is that I don't think he's alone.
Kate, Nottingham
This affects young disabled people too.
I am on a very low income due to a disability but I need regular homecare.
I have MS and because of the nature of my illness, I have been told that I'm not eligible for help from social services.
I have been forced to pay for private homecare, the cost of which is huge.
The cap has now been lifted on what can be charged, so agencies can charge whatever they like and add administrative and travel fees to the costs.
I am forced to try and manage without carers some of the time as the cost is prohibitive - I need the care but I can't afford the costs of other bills.