Experts propose free access online to medical records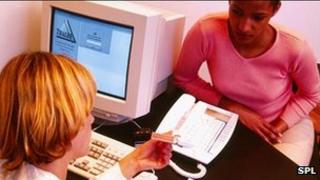 Patients should be able to access their medical records and request prescriptions and appointments online, a government-backed group recommends.
The NHS Future Forum, which advises the government on its health reforms, says it would like to see the proposals implemented in England by 2015.
Prof Steve Field, who leads the forum, said the "vision" was that patients should feel they own their data.
Patient groups have welcomed the plan, but say data must be protected.
Medical test results and hospital discharge notes would also be available under the scheme, and patients would be able to obtain repeat prescriptions.
Prof Field told BBC Radio 4's Today programme: "Most of us share records during consultation, and 70 or so practices already allow free access to patients whenever.
"The vision is the patient should feel that they own their own data. That takes a shift in responsibility from, technically, the secretary of state who owns the data - to the patient.
"The idea is that the patient then feels more in control of their health."
He said he would like to see the plan implemented by 2015.
The proposals will form part of a major report from the NHS Future Forum due out in January.
The recommendations do not apply to Scotland, Wales or Northern Ireland.
Confidentiality 'paramount'
The Department of Health said it "fully supported" the future forum plans.
Health Secretary Andrew Lansley said: "We want patients to feel they are really at the heart of decisions about care - 'no decision about me without me'.
Under the scheme, patients will be able to point out mistakes in their records or request a second opinion from their GP.
Patients can currently ask their GP for access to their records, but the Patients Association says many people report problems doing so.
Its chief executive Katherine Murphy, said: "Allowing patients to access their records on line for free will be welcomed by many. Patients will be able to see entries on their records as well as re-order repeat prescriptions. However, patient confidentiality is paramount.
"There must be a guarantee that all patient data will be protected and that it will not be possible to trace back information to an individual."
And she said the focus on online access must not be to the detriment of those who do not have access to a computer.
"Patients often report the exorbitant charges they face when asking for paper copies of their records.
"We would not want online records to create a two-tier system whereby those who are less likely to use the internet system face the brunt of the costs."
There are also likely to be concerns about the implementation of the scheme following the long-delayed attempt to upgrade NHS electronic medical records.
A spokeswoman for the British Medical Association said: "While the BMA supports the principle of patients having more access to their medical records we would have to be completely reassured that security was water-tight.
"Patient confidentiality is our number one priority and this should not be compromised.
"We are also concerned that some groups who do not have access to the internet, the elderly perhaps, may be at a disadvantage and this will need to be addressed."
The government said the commitment to patient access to GP records is a central focus of its forthcoming Information Strategy which will set out how and when this will be delivered.