Author Alice LaPlante on Alzheimer's novel Turn of Mind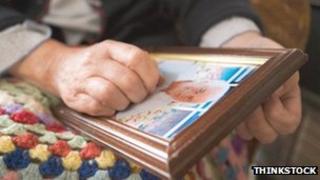 "Is this the only disease where you lose the person twice? First you lose them mentally, their emotional and intellectual presence, and then they die again, physically."
The question, put by a nurse caring for a parent with Alzheimer's at a book reading, struck a chord with US author Alice LaPlante.
Her own mother was struggling with the disease and she had written a novel charting a fictional character's descent into mental confusion.
"Probably everyone thinks that what they are going through is harder than other people, but I do think Alzheimer's is one of the more difficult diseases on individuals who have it, as well as people around them and their family," she says.
The book tells the story of a woman in her 60s - a distinguished hand surgeon with a brilliant mind - who is struggling with memory loss and the dawning realisation that she may have committed a murder.
As a creative writer, the author wanted to convey a deeper understanding of dementia than that contained in medical text books or case histories.
On a socio-political level she also wanted to raise awareness of the seriousness of the disease and how "woefully unprepared we are as society to deal with it".
"Here in the States we don't have the social infrastructure to help families deal with all the care that is required when they have a loved one who has Alzheimer's," she says.
"We don't have the financial infrastructure here in the States. Insurance does not cover the care that an Alzheimer's patient needs.
"A lot of times a family's entire savings will disappear in caring for their loved one or someone will have to quit their job to spend full-time caring."
The novel, Turn of Mind, which won the Wellcome Trust Book Prize, uses the classic device of the unreliable narrator, but in this case the narrator is more unreliable than most.
'Extraordinary experience'
As the author explains: "It's a murder mystery. It's told from the point of view of the main suspect who has Alzheimer's and the book goes from when she's not too badly off and ends up with her pretty deeply into the disease, so there's a deteriorating unreliable narrator.
"The voice was there from the beginning, the plot was there from the beginning although I didn't know who'd done it until 50 pages from the end, and then I said 'Oh that's interesting,' and I went back, and the clues were all there, it was quite an extraordinary experience."
The author wanted the character to be highly intellectual with a degree of clinical detachment and some insight into the condition, so she chose a medic, who she called Dr Jennifer White.
Choosing a hand surgeon was "a rich terrain to work with, metaphorically, because hands are so important in so many different ways", she says.
Other details came from observing her mother, and then imagining herself in the same position.
"That was the true delight of writing the book, to try to understand what she was going through. So I guess you could say that it was real experience with imagination layered on top of it."
The BBC radio programme Health Check includes an interview with Alice LaPlante about how she approached writing her book - it is broadcast on the BBC World Service at 19:32 GMT and is available online and as a podcast.