Manchester United fan 'made unwell by watching matches'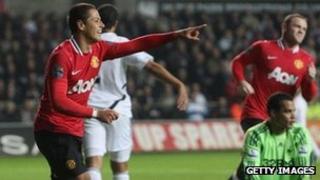 Unusual symptoms suffered by a football fan during big games helped doctors spot a potentially severe condition.
The British Medical Journal reports the 58-year-old Manchester United fan suffered debilitating palpitations and light-headedness during close matches.
Doctors involved in the woman's case believe that the stress of watching her favourite team ended up starting them.
Tests revealed she had a hormone deficiency caused by Addison's disease.
Experts say such "Addinsonian crises" are more commonly triggered by severe events such as bereavement or other illnesses.
The woman in question had more general symptoms such as poor sleep quality, fatigue and chest pain in her day to day life.
However, it was her experience during matches which provided extra clues to her underlying condition.
When Manchester United were playing opposition from lower down the Premier League, her symptoms were entirely absent, but serious opposition from rivals such as Chelsea and Manchester City made her feel so unwell she considered leaving the stadium.
Addison's disease is caused by problems with the adrenal gland, which can interrupt the supply of hormones such as cortisol, normally released when the body is under stress.
Although if left untreated it can be fatal, it can be managed with steroid drugs taken regularly through the day.
Doctors from nearby Trafford General Hospital wrote in the BMJ: "The patient would experience episodes of anxiety, palpitations, panic, light-headedness and a sense of impending doom towards the end of high-profile matches.
"We believe that our patient was having difficulty mounting an appropriate physiological cortisol response during the big games - we present this as the first description of Manchester United-induced Addisonian crisis."
Treatment appears to have now relieved her symptoms.
However, the doctors noted that this coincided with a lengthy sequence of comfortable wins at Old Trafford and as the patient was on holiday during the recent 6-1 home defeat by Manchester City, she may have avoided a true test of her recovery.
Dr Trevor Howlett, a consultant endocrinologist from the University Hospital of Leicester, said that Addison's remained an uncommon illness in the UK, and was hard to spot because it often presented quite common symptoms such as tiredness.
He said: "If anyone is concerned about persistent symptoms of the kind described, and has additional symptoms such as changes to their skin pigmentation, then they should visit their GP.
"It is still unlikely to be as a result of Addison's, and tests will be able to exclude it."