Over-40s health check provision in England 'patchy'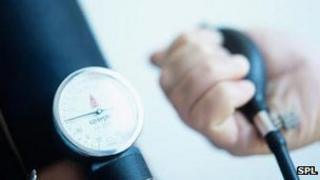 The provision of health MOTs for the over-40s in England has been "slow and patchy", says a UK charity.
The NHS Health Checks, designed to spot heart disease by looking for risk factors like high cholesterol or blood pressure, should be fully rolled out across the country by 2012-2013.
But Heart UK found many primary care trusts around the country were not yet geared up for the job.
Nine had failed to provide even a single check this year.
And many others carried out far fewer checks than would be necessary to meet the target of covering a fifth of all eligible 40 to 74-year-olds under their care.
Heart UK sent Freedom of Information requests to 152 primary care trusts (PCTs) across England in September 2011 to collect information about the local provision and implementation of NHS Health Checks.
The charity, which is partly funded by industry, received 112 responses, representing 74% of the PCTs.
Variable provision
The best performing strategic health authority was the East of England, where PCTs provided an average of 8,946 NHS Health Checks in the year 2010-2011.
In comparison the South East Coast was the worst performing, where local PCTs provided an average of just 732 NHS Health Checks in the same time period.
Nine PCTs - Bexley Care Trust, Calderdale PCT, East Riding Of Yorkshire PCT, Eastern and Coastal Kent PCT, Milton Keynes PCT, Shropshire County PCT, South Gloucestershire PCT, Sutton and Merton PCT and West Kent PCT - had not carried out any checks.
In all, 43,322 checks were carried out across England.
There are approximately 16 million people eligible for an NHS Health Check in England.
Heart UK says making even half of this number of people more aware of their risk of developing heart disease by presenting them with the results of their health MOTs and encouraging them to act could make a big difference in terms of mortality and morbidity and cost to the NHS.
Encouragingly, four out of the five regions with the highest rates of coronary heart disease mortality per 100,000 of the population were among the top five regions for providing health checks, says the charity.
But it says more need to follow suit.
Heart UK's chief executive Jules Payne said: "Tackling heart disease must be a priority for primary care trusts and undertaking health checks is a cost-effective and straightforward way of picking up risk factors for heart conditions before it is too late.
"The health check programme is under threat and not being implemented uniformly across the country and action must be taken to ensure it continues to save lives and public money."
A Department of Health spokesperson said the NHS had been provided support and investment to roll out the Health Checks programme. "There is no excuse for not doing the basics well and we will continue to monitor how the NHS is performing," he said.
Mubeen Bhutta, of the British Heart Foundation, said: "Your postcode can have a profound effect on your heart disease risk so it's good to see health checks being carried out in some of the places where they're needed the most. But they need to happen away from the GP surgery and in our communities to have the most impact."
Despite improvements in care in recent years, heart disease remains the number one killer in the UK, with almost 200,000 people dying from heart and circulatory diseases each year.