Scottish alcohol sales fall after multibuy ban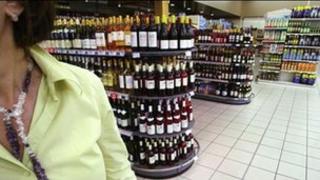 The amount of alcohol sold in Scottish shops and supermarkets has fallen since a ban on multi-buy deals was brought in this October, figures show.
Retail analysts Neilsen said sales of wine fell 5%, spirits by 3% and beer by 8% during the first eight weeks of the ban, compared with that period in 2010.
The 1 October ban is aimed at the 10% of drinkers in Scotland who consume 45% of alcohol sold.
One public health expert said the figures were "encouraging".
Neilsen looked at sales from January to September 2011 compared with the same period in 2010, and found wine sales up 1%, spirits up 1% and beer sales down 3%.
They also looked at sales in England and Wales over the same periods.
In the eight weeks that Scotland has seen falls - and while the ban has been in place - sales of wine in England and Wales went down by 4%, spirits 1% and beer sales rose by 1%.
'Hit consumption'
The analysts said there were clearly a number of factors affecting how much alcohol people bought.
But Gavin Humphreys from Neilsen added: "Whilst we can not categorically attribute all the declines in Scotland purely down to the multi-buy ban, it does appear that the measure has had an impact.
"There will be other factors at play influencing shopper behaviour such as the economy and general cutting back and stretching of budgets.
"But if the measure was designed to cut consumption then the immediate sales figures suggest it is working."
The Alcohol Scotland Act also restricts alcohol advertising around premises, and brings in age verification checks and a new tax on some licence holders.
Dr John Holmes from the University of Sheffield studies how price affects the type of alcohol people buy, and advised the Scottish government on the multi-buy legislation.
He said: "The figures are encouraging from a public health perspective and the policies that the Scottish government has put into place to reduce the supply of cheap alcohol may be having some effect".
Figures calculated by the University of Sheffield predicted sales would fall by exactly 8% after a multi-buy ban came in.
Dr Holmes said "A huge amount is being consumed by a small proportion of people, so if you can enact policies which hit the consumption of those drinkers, you can have a huge impact on alcohol related harm."
A bill to introduce a minimum price per unit of alcohol sold was put to the Scottish Parliament in October by Scottish health secretary Nicola Sturgeon as another attempt to combat alcohol abuse.
Alcohol pricing is being reviewed across the rest of the UK and a ban on the sale of alcohol below a minimum price will be introduced in England and Wales from 6 April 2012.
Shops and bars will not be able to sell drinks for less than the tax paid on them - a move the government says will cut crime.
The full report was on You & Yours on BBC Radio 4 on Thursday December 8.