Q&A: Ambulance delays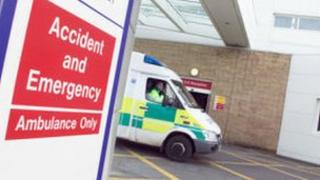 When ambulances arrive at A&E, they are supposed to hand over the patient into the care of hospital staff within 15 minutes.
But all 11 ambulance services in England are facing problems with this. Some hospitals are failing to take charge of emergency patients within the deadline in over half of cases.
Many areas are seeing the problem worsen year on year.
How are handover times measured?
They cover the point at which ambulance crews arrive at hospital to when the patient and their medical notes have been handed over to hospital staff.
Crews work on the basis that this process should take a maximum of 15 minutes. That is not an official target - like say the 18-week waiting time standard for non-emergency operations - but is accepted as good practice across the health service.
Some managers have specifically requested their hospitals adhere to it. In London, the busiest patch in the country, hospitals only have to hit this in 85% of cases. But elsewhere, such as across the North East of England, 100% compliance is expected. Some hospitals can even face fines for failing.
But in other regions, such as the East Midlands and East of England, it is not stipulated what proportion of patients should be handed over within the deadline. Instead, 15 minutes is used as a guide to judge performance.
What do the results show?
The BBC asked for data from all 11 ambulance trusts in England under the Freedom of Information Act. The information provided showed all are facing problems on some scale. However, direct comparisons are difficult as the way the performance is recorded varies from place to place.
Eight services were able to provide information on what proportion of patients were handed over within 15 minutes - and that made worrying reading. London had the worst problem with over 45% of cases taking longer - and even the best performer, the North East, was hovering about the 20% mark.
But others focused on averages or turnaround times, which include the handover period plus the time it takes to clean and restock the ambulance. Where this was supplied, the trusts had all seen problems worsen over the past year or two.
In fact only one trust - Great Western - could point to a clear improvement in delays. Nonetheless a quarter of cases in that area are still taking longer than 15 minutes.
What does this mean for patients?
Hospitals and ambulance crews are adamant that the sickest are not left waiting to be handed over to hospital. If it is a life or death case they will be taken straight in and jump any queue that has developed.
However, delays do affect the ability of the ambulance service to respond to other 999 calls - and that is a problem because more and more are being made.
There are now more than eight million emergency calls made in England each year - up from 2.6 million in the mid-1990s and 5.6 million six years ago.
But not all of these end up with patients being taken to A&E. What the NHS has tried to do is filter calls by assessing patients on the phone so that crews are only sent when they are really needed.
Of the eight million calls last year, only 6.6 million resulted in a response and of those only 4.3 million ended up being taken to an A&E unit. Most of the others were treated at the scene or taken to other destinations.
Nonetheless, the health service is increasingly struggling to meet its targets to reach patients who need an ambulance.
Last year only six of the 11 ambulance trusts met the target to reach the most critically ill patients within eight minutes. For the target for the serious, but not life-threatening cases, the NHS performed even worse with just two meeting it.
Although in all cases trusts only missed the marks by a few percentage points.
What can be done about the problem?
Delays are most likely to happen because surges in demand result in a shortage of demand so in many respects it is something the NHS is having to live with.
However, some ambulance services and hospitals are looking to make system more efficient.
In some hospitals the drop-off area for ambulances are being made bigger, while others have set up teams of doctors rather than nurses to meet patients being brought in so that decisions can be made more quickly.
Many areas have also started deploying liaison officers at busy hospitals that try to relieve pressure when queues build up.
They do this by taking responsibility for patients from paramedics, but also working with the hospital to improve their internal systems.
Treating more patients at the scene or offering phone advice when it is appropriate also makes a difference.
But the key factor for many involved in the system is stemming the rise in 999 calls.
Ambulance bosses stress that patients need to think more carefully sometimes about whether an ambulance is really needed or whether they could seek help from another part of the health service.