'See elderly as human beings'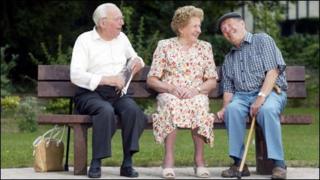 More people are living longer. And in this week's Scrubbing Up, US elderly care expert Dr Bill Thomas says the way they are cared for needs to change.
An ageing society, unprecedented financial pressures and the fact that we just deserve better mean the standard care home model needs radical re-engineering.
The Office for National Statistics (ONS) revealed in October that the number of centenarians in the UK has increased fivefold in the last 30 years.
The seismic change in life expectancy is fantastic news.
But the typical care home model is still grounded in healthcare concepts developed well over 100 years ago by Florence Nightingale. And it needs a massive shift if it is to reflect older people's changing needs.
'Antiquated and wrong'
Our model, which we run at centres in the US, creates small communities for groups of older people and staff to focus on living full and vibrant lives.
It is a radical departure from traditional care homes. There are already more than 100 in the US but none yet in the UK.
It is based around households of seven to 10 older people, supported by specially trained highly versatile workers who provide a wide range of assistance including personal care, activities, meals and laundry.
Conventional long-term care makes the carers the stars of show, in the spotlight all the time.
This approach places the elders at centre stage: they, and their families, become active and involved decision-makers.
The staff are still there, but they are backstage, where they are supposed to be, helping people to be involved in every aspect of running the household, from cooking to budgeting.
I have realised that simply doing a better job within the standard model is not going to get us where we need to go. It doesn't work, it's antiquated and it's wrong.
It's better to live in a place that's about growth and development than a place that's about decline, disability and death.
Blank sheet
What we believe about older people influences how they feel about themselves. Enabling older people to play an important part in the way a home is run helps them remain independent and happy.
It's the relationship, it's the connection, it's the belonging that counts. We have to teach people to see the elderly as growing human beings.
Interestingly, one of the biggest concerns I hear about the approach is "what will the regulator say?"
In the US, regulators have been persuaded of the merits of this approach because they have seen the positive outcomes for older people.
The fiscal crisis is, in a strange way, an advantage.
Carrying on the way we have always done things carries a very high risk of failure. It's time to change.
Fortunately, this is change we can accomplish without increasing spending. The art of care-giving has tremendous value, it can make a life worth living and it is worth doing well.
Building design plays a part in the concept.
Starting with a blank sheet of paper provides a chance to develop something completely new and that is being tried at places including West Hall, an Anchor development currently being built in Surrey.
There are many incremental changes that can be implemented today in every care home in the world which, taken together, would make a real difference in the lives of older people.
The important thing to understand is that we are moving away from care that is based on tasks and facilities and toward a future in which relationships matter most.
Dr Thomas is the founder of the Eden Alternative and set up the Green House Nursing Home, both in the US. He is a paid advisor for Anchor - which provides retirement and care homes - in the UK.