British Red Cross lists winter weather survival kit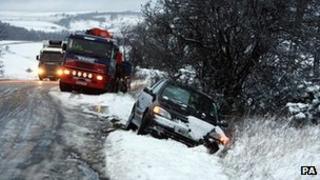 A whistle, a penknife and a three-day supply of bottled water are on the list of items people should have to hand in case of a winter emergency, according to the British Red Cross.
It recommends having a bag of emergency kit at home and in the car in case of being trapped by snow.
However, a survey by the charity suggested that only one in five people were making preparations.
It also suggested that a kit bag could make a Christmas gift.
Sir Nick Young, chief executive of the British Red Cross, said "many people were caught on the hop by the extreme weather" last winter.
In Scotland, some people were stuck in their cars overnight on the M8 between Glasgow and Edinburgh.
Sir Nick added: "None of us can predict what the conditions will be like this year, but what we can all do is take a set of small, practical steps to ensure that we are prepared."
The charity's recommended emergency kit bag contains:
A list of emergency contact numbers
Battery-operated torch and spare batteries (or a wind-up torch)
Any essential medication, some toiletries and a first aid kit
Three days' supply of bottled water and ready-to-eat foods that keep
Copies of important documents like insurance policies and birth certificates
Pencil, paper, a penknife and a whistle
Simon Lewis, head of emergency planning and response at the British Red Cross, explained the thinking behind some of the items.
"It's only in times of emergency that you find these things useful. A penknife, well who knows? Cutting yourself free from a seat belt comes to mind," he said.
"People just don't think it's going to happen to them, but there's no doubt that some of these things can actually save lives. It's just a sensible approach really."
In the charity's survey, a fifth of people had prepared for being caught out on the road and two in five people were ready for being trapped at home by bad weather.
Mr Lewis suggested this could even provide inspiration for Christmas presents: "Why not give two presents? Why not give the present that someone will really love and the other one they will thank you for when the emergency happens."