Care homes: Southern Cross failure 'may be repeated'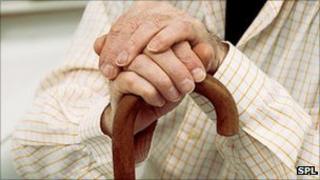 The government should do more to monitor the finances of England's care home companies, says a House of Commons committee.
The call follows the collapse of Darlington-based Southern Cross, which operated 9% of all care home places.
The Public Accounts Committee says the continuing lack of checks could increase the chances of a similar crisis.
Ministers said they would be looking to put forward plans in the new year.
Martin Green, chief executive of the English Community Care Association which represents independent care home providers, said: "We certainly need to get better intelligence about what is going on in the care market."
Referring to the Southern Cross collapse, he told BBC Radio 4's Today programme: "We have to make sure the system is as robust as possible so that it doesn't happen again."
The care home market is worth £23bn a year, most of which comes from the public purse, and the figure is set to grow further as people live longer.
Mr Green said: "In the report it says that local authorities and the government are the purchasers of 63% of care and unfortunately at the moment they are not paying the true cost of care and that of course puts enormous strains on businesses."
Failing services
Under the "personal budgets" scheme, local authorities give cash directly to those who need care to fund their own services.
In September, the National Audit Office warned of the need to offer more protection to those affected by failing services, and the parliamentary committee which oversees its work has reinforced that message.
Committee chairman Margaret Hodge said it was "deeply worrying" that the Department of Health had not yet made it clear what would happen if a care home firm were to fail.
"This is crucial to protect frail and vulnerable users of care and to provide reassurance that the responsibilities of the failed providers will be transferred quickly and with minimum disruption to users," she said.
The market itself was contributing to the problem, she added, with some areas more vulnerable to a care firm failure than others, as the homes run by smaller firms are bought out by larger groups.
"No-one, government or local authorities, really knows what is going on locally or whether one provider is becoming too dominant."
She used Southern Cross, which collapsed in October, as an example.
Although its 752 homes added up to 9% of the total market, in north-east England they controlled almost one in three, she said.
The committee report also highlighted rising levels of debt in care firms.
Mrs Hodge said one company "carries nearly £1bn of debt - yet the department is not monitoring their financial health."
And while the report focused on the system in England, many of the care home providers operate across the UK so the concerns apply to Scotland, Wales and Northern Ireland.
Safeguards
The government announced on Monday that all the homes formerly run by Southern Cross had now been passed to new owners, and that none of the 31,000 residents had lost their places.
In a discussion document published in October, the Department of Health suggested that one option was for local authorities to have more responsibility for guiding the market locally.
However, it conceded that a wider "strategic view" might be needed, given that care home companies often covered wide areas.
Responses to the discussion document are expected to lead to a government White Paper in the spring.
Care services minister Paul Burstow said that the latest report made an "important contribution" to the ongoing debate about reform.
"We want to make sure that there are sufficient safeguards in place to oversee care providers to protect people who rely on these essential services."
However, Dave Prentis, general secretary of the union Unison, which represents care home workers, said it was time for care homes to be brought back into public ownership.
Those which remained in private hands should be subject to tougher standards and restrictions on profits, he added.