Dystrophy patients face 'avoidable' hospital admissions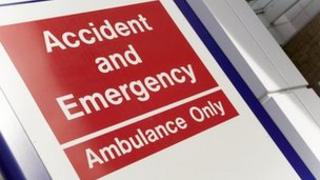 The NHS is wasting up to £31m a year - and putting lives in danger - because it does not give the right care to people with muscle-wasting conditions, according to campaigners.
A report covering eight NHS trusts found 41% of emergency admissions for such patients could have been avoided.
It says patients miss out on access to specialists and equipment.
Ministers said care for patients would improve with plans to modernisation the NHS.
Muscular dystrophy and related neuromuscular conditions cause muscles in the limbs, and sometimes those in the heart and respiratory system, to waste and weaken over time, leading to disability and in some cases significantly reducing life expectancy.
More than 70,000 people in the UK are affected by one of the 60 forms of the condition.
'Needless illness'
The report, put together by neurologist Prof Michael Hanna of University College London Hospitals NHS Trust, analysed 267 unplanned hospital admissions for 200 patients with a neuromuscular disease across eight NHS trusts.
The campaign says there are just 30 expert care advisers to support 70,000 people with the condition.
It says that is half the number recommended by the Walton report in 2009, which criticised NHS care of people with dystrophy as often "inadequate and not acceptable".
The campaign says many patients are still unable to access medical equipment and specialist physiotherapy, which can help keep muscles supple and reduce the risk of falls.
Prof Hanna said: "This data indicates that a significant proportion of emergency admissions could have been avoided.
"Neuromuscular conditions are progressive and it is crucial that patients receive ongoing input from a co-ordinated multidisciplinary team of specialist health professionals to manage changing symptoms, to reduce complications and to provide expert advice on equipment and treatments."
Robert Meadowcroft, head of the Muscular Dystrophy Campaign, said: "Patients are missing out on vital specialist healthcare services and support.
"It is appalling that the NHS is being so short-sighted in its approach that we're in a situation where children and adults are needlessly becoming critically ill."
A Department of Health spokesperson said: "Our plans to modernise the NHS will improve care for patients with long-term conditions like muscular dystrophy by ensuring that services are more integrated.
This will enable more people to be treated in the community which will help to reduce unnecessary hospital admissions."