Phone for psychological help 'while waiting for a bus'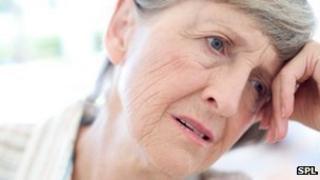 A phoneline for anxious and depressed people in a deprived area of Glasgow is helping overcome the stigma of mental health illness, says the psychologist behind the project.
The 'call-back' service puts individuals in touch with a clinician offering same-day advice on the phone.
It particularly benefits those who want an anonymous alternative to visiting their GP.
Callers have sought help during their lunch hour and while waiting for a bus.
Around 2,000 calls have been received since the 'call-back' service was set up in 2008.
Dr Jim White, consultant clinical psychologist, will present data on the phoneline service to the annual conference of the British Psychological Society (BPS) in Birmingham.
It forms part a mental health project called STEPS, based in south east Glasgow.
The idea is that people who want advice about problems like anxiety, depression or sexual abuse can leave their details on a dedicated phone line.
The appropriate clinician, counsellor or therapist will then ring them back on the same day, offering advice and access to other parts of the service if appropriate.
Night line
Dr White, who is a fellow of the BPS, says the phoneline service offers an accessible alternative to a face-to-face appointment with their GP - with 50% of people choosing to use it.
He says it enables people to access help at a time and place convenient for them.
"A lot of calls are made during the night when people can't sleep and when they have time to contact the service."
He also feels it is a simple and effective approach, particularly in poorer areas.
"In more deprived areas there is a stigma about mental health problems and people don't always want to go and see their GP and be seen in the waiting room.
"We are reaching the hard-to-reach population in this area of Glasgow because of the anonymity of 'call-back'.
"We believe that other primary care teams should be adopting it as well."
Dr White says that because people are called back within nine hours, they are helped or referred quickly and therefore much more motivated to attend future appointments with mental health professionals.
The NHS Confederation confirmed that there are many similar schemes running in England.