Winter vomiting virus: British oysters contain bug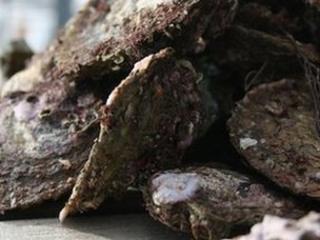 Three-quarters of British-grown oysters it tested contained the winter vomiting bug, norovirus, the Food Standards Agency (FSA) has found.
The figures are contained in the first systematic analysis of the virus in UK oyster harvesting areas.
The FSA says there is no change in its advice to consumers.
It says people should be aware that there is a risk of food poisoning when eating raw shellfish and the food should be avoided by vulnerable groups.
According to Dr Andrew Wadge, the FSA's chief scientist, the research has not identified any new food safety risk.
"If you are someone who enjoys eating raw oysters and you want to continue there is nothing here to say that you are at more risk or less risk. What we do say is that there is some risk."
Although it is well known that eating raw or lightly-cooked seafood can make you ill, the risks are largely unquantified. Current testing methods cannot distinguish between infectious and non-infectious forms of norovirus. In addition it is still not clear what safe levels of the virus are.
According to Dr Wadge, the FSA's study is the first stage in a process to better understand the risks and take steps to reduce them.
"Ultimately, I'd hope that this would lead to new safety standards across Europe (for norovirus levels) and better monitoring.
"If we can get to that point then people will be able to eat their oysters with more confidence than they are able to at the moment."
Winter spike
Investigators tested 8,000 oysters from 39 harvesting areas across the UK.
One of the aims of the research is to see to what extent seafood contamination contributes to the winter spike in food poisoning.
One theory is that the purification process used by oyster manufacturers is less effective when there is less sunshine because it relies on ultra-violet radiation from the sun killing sea-borne infection.
David Jarrad of the Shellfish Association of Great Britain said the UK oyster industry and the FSA had worked hard to mitigate against the norovirus.
"No one wants to see norovirus in oysters, or illness, and we have to find a way to reduce it, but thankfully there are very few and the main cause of illness is person-to-person contact."
Follow Pallab on Twitter