Stafford hospital failings: is the NHS any safer now?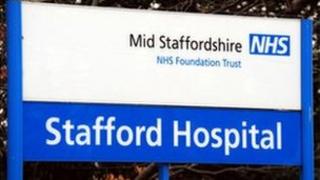 As the public inquiry into the catalogue of failings at Mid Staffordshire NHS Trust comes to an end, some are asking whether the same thing could happen again elsewhere in the NHS.
One senior NHS manager has voiced concerns that many of the ingredients which contributed to the problems at Stafford hospital are emerging once again.
But regulators say the NHS is a now a very different organisation, in a much better position to respond to failings.
Hundreds more people died at Stafford Hospital than would have been expected between 2005 and 2008.
A series of catastrophic failings at the hospital were revealed in a Healthcare Commission report.
Managers were found to have been distracted by targets and cost-cutting, and regulators were accused of failing to pick up problems quickly enough, despite warnings from staff and patients.
The public inquiry began its hearings over a year ago. Its chair, Robert Francis QC, now has evidence from 181 witnesses, and more than a million pages of evidence to consider. He's expected to publish his recommendations next year.
Never again
Julie Bailey, whose 86-year-old mother Bella died at Stafford Hospital, and who founded the organisation, Cure the NHS, has been to every day but one of the inquiry.
She says the NHS must observe its findings.
"We are a very determined group and we will never let another Mid Staffordshire happen," she told me. "These recommendations must not be ignored."
But the Francis Inquiry is taking place at the same time as the Health and Social Care Bill ushers in the biggest reorganisation the NHS has ever seen, and others worry that they will come too late.
The charity Action against Medical Accidents, or AVMA, says the bill will become law before it can incorporate the findings. Its Chief Executive, Peter Walsh, says they need to be embedded in NHS reform.
Worrying period
"I think it's going to take the NHS some time to absorb these findings and achieve a safe NHS," he said.
"We're in a worrying transitional period, where people might take their eye off the ball and fail to protect patients."
The man who was temporarily brought into Mid Staffordshire NHS Trust as a troubleshooting chief executive after the 2009 report goes further than that.
Anthony Sumara believes many of the ingredients that enabled Stafford Hospital's problems to become so bad are re-emerging in the health service now.
"There are organisations going through management churn, which are not big enough to sustain themselves clinically, and are not being given the help they need," he said.
"It's inevitable that another Mid Staffordshire will be somewhere in the mix."
That, of course, is every manager's worst nightmare. But the failings at Mid Staffordshire reverberated around the NHS, and it has changed significantly as a result.
The Healthcare Commission has been replaced by the Care Quality Commission, which carries out more unannounced inspections, and has a more rigorous assessment process. There is also greater protection for whistle blowers.
NHS a safer place
And though the Care Quality Commission itself has been criticised for not doing its job properly, England's NHS Medical Director, Bruce Keogh, is cautiously confident.
"No healthcare system is utterly safe, but our NHS is a much safer place than it was three years ago," he said.
The biggest difference, he argues, is that the NHS now pays far more attention to the way patients are looked after. He insists staff should treat anyone in hospital as they would a visitor to their home.
"We've put quality right at the heart of the NHS," he said.
"All NHS trusts are expected to focus on each and every service they provide in terms of effectiveness, safety and patient experience."
But Julie Bailey, still mourning the death of her mother, is not reassured. She says she still hears of cases of dreadful NHS care, and says when the public inquiry's findings are published, they should usher in a new era of safer patient care.
"We owe it to our loved ones," she said, "we owe it to this community - members of whom have lost their lives under dreadful circumstances."
Those circumstances, everyone agrees, should never be repeated. But the question is just how much the NHS has changed already, and whether the findings of the public inquiry will help prevent another catastrophe like the one at Stafford Hospital.