Switch in cervical cancer vaccine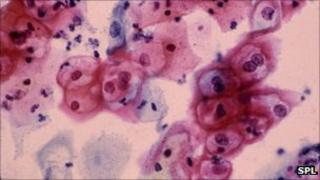 The Department of Health has decided to change the vaccine it uses to protect girls against cervical cancer throughout the UK.
From September next year it will use the Gardasil jab, which also offers protection against genital warts - one of the most common sexually transmitted infections.
Some sexual health experts criticised the decision in 2008 when the Department of Health opted for the cheaper of the two vaccines on offer - Cervarix.
Both vaccines protect against human papilloma virus (HPV) types 16 and 18, which cause more than 70% of cervical cancer.
But Gardasil, which the Department of Health has now opted for, also protects against HPV types six and 11 which cause nearly all genital warts.
Figures from the Health Protection Agency show that 75,000 people were diagnosed with genital warts in 2010.
Professor David Salisbury, the Government's Director of Immunisation, said: "It's not unusual for the NHS to change vaccines or other medicines - it can happen following competitive tendering exercises or when new research findings come to light."
He denied that the wrong choice of vaccine had been made three years ago, adding that the decisions then and now were both "scientifically and economically justifiable".
Dr Steve Taylor, consultant in sexual health medicine at Birmingham Heartlands hospital said the news was "fantastic".
He added: "In Australia the burden of genital warts has fallen dramatically since the introduction of the quadrivalent vaccine (Gardasil).
"We felt last time round the decision was based on the vaccine cost, and yet the reduction in the burden on sexual health clinics was not taken into account."
Gardasil, made by Sanofi Pasteur MSD, is the most widely used of the two vaccines. Eighty million doses have been distributed worldwide compared to 25m of Cervarix, which is manufactured by GlaxoSmithKline.
Girls are offered the HPV vaccine at secondary school when aged 12-13.
The Department of Health says 400 deaths a year from cervical cancer will be prevented by the vaccination programme.