Home care providers in England face inspections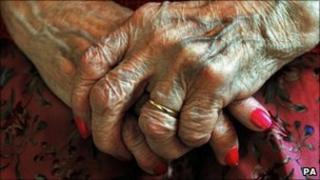 Home care services in England are to be subject to a fresh inspection by the Care Quality Commission from April.
The CQC has announced it will report on 250 companies who help people in their own homes with tasks such as eating, washing, dressing or taking medication.
Its reports will be produced before the health watchdog publishes its verdict on the state of home care nationally.
An Equality and Human Rights Commission report due out on Wednesday is expected to be critical of home care services.
An EHRC spokesman said the care watchdog's pledge could be an "important first step" in addressing concerns raised by its own inquiry.
CQC inspectors will carry out the reviews alongside professionals and those who have personal experience of using home care services.
'Behind closed doors'
CQC chief executive Cynthia Bower said: "The operation of home care is not as transparent as care in hospitals and other sectors because the interactions happen behind closed doors.
"That is why we want to focus on this sector of social care in this way."
The CQC already runs routine spot checks, but this will be an extra inspection.
An advisory group is to be set up to assist the inspection process, with members from organisations including the EHRC, Age UK and the United Kingdom Homecare Association.
Ms Bower said it would focus on areas such as dignity and respect, safeguarding of people in vulnerable circumstances, and inspections would also look at how well supported and trained staff were.
Checks will include speaking to those who receive home care, as well as to their families, and home visits, she said.
The inspections follow a pilot scheme run by the CQC in which 30 home care services were reviewed.