Child paracetamol dosages revised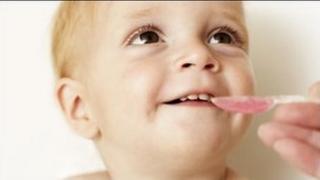 Parents have been given new instructions about how much pain-relief medicine they can give their children.
Until now, children aged one to six could be given up to 10ml of paracetamol-based products such as Calpol up to four times a day.
But the new Medicines and Healthcare products Regulatory Agency guidance advises lower doses for all children under four.
An MHRA spokesman said the changes were not made because of safety concerns.
He said the aim was to ensure children got the right dose for their age.
About 84% of children in the UK have received paracetamol-based products by the age of six months.
Parents give the medications because their children are in pain or have a fever - because of illness, teething pains or vaccination-related temperatures.
Asthma link
But the MHRA said the age band, where children aged one to six could be given the same dose, was too wide.
Its updated guidance says: "Younger children may have received a dose of paracetamol that was higher than necessary."
Product information is being updated on medications for children under-six (which are 120mg/5ml) so it is in line with the new guidance.
An MHRA spokesman said: "The change is to ensure children get the optimal dose of paracetamol suitable for their age. It is not because of safety concerns."
The revised guidance says older babies can now be given a higher dose. Previously babies aged three months to one year could only receive 2.5ml four times a day. Those aged six to 24 months can now have up to 5ml at each dose.
Parents have previously been warned to avoid using household teaspoons to prevent measurement errors.
And researchers have linked excess use of paracetamol-based medicines in young children to an increased asthma risk later in childhood.