Midwives told to involve fathers in maternity care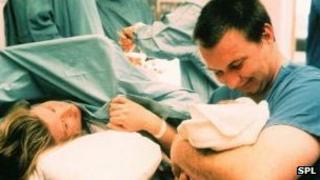 Midwives are being asked to make more of an effort to involve fathers-to-be in maternity care.
The Royal College of Midwives (RCM) says too often the dad is left out of the process.
It suggests top tips to help include the father, like offering him a chair as well as his partner, during antenatal appointments.
And staff should prepare the man to be a helpful birth partner, so he knows what to do in the labour room.
The 16-page guide Reaching Out: Involving Fathers in Maternity Care is a joint publication produced by the RCM, the Department of Health, the Royal College of Obstetricians and Gynaecologists and the Fatherhood Institute.
Male friendly
To address the issue of fathers being the "invisible parent", maternity wards should provide men's lifestyle magazines to help make fathers feel comfortable, the guidance suggests, and antenatal classes should be arranged around their work commitments and even football fixtures, it says.
Launching the guidance, Public Health Minister Anne Milton said: "Becoming a parent is hugely exciting but it can be a challenging time. Fathers want to feel involved throughout their partner's pregnancy and this guide is a step to making that happen."
The guide criticises the way maternity care is organised in many units in the UK, saying services tend to exclude fathers.
And many mothers feel their male partners receive little or no support.
Cathy Warwick, general secretary of the RCM, said: "A father's role should not begin and end at conception. There is now substantial evidence of the benefits resulting from fathers being involved in their partner's maternity care.
"Most women want their partners to be involved in their pregnancy."
She said encouraging men to engage in the experience helped strengthen the bond between the father and his child. It is also an opportunity to spot stress or depression among new dads.
Daddy care
Trusts that have already introduced measures to involve fathers have reported reduced workloads for midwives.
At the maternity centre at University Hospital of North Staffordshire NHS trust, antenatal classes have been held on Sunday afternoons to fit around fathers' jobs and football matches. The trust says it has led to a reduction in women being admitted to hospital before labour is in full swing.
The Princess Anne wing at the Royal United hospital in Bath, run by Great Western Hospitals NHS foundation trust, now provides reclining chairs for fathers to sleep in.
Ed McKenzie, 32, a financial adviser from Bath, stayed overnight on a chair in the Princess Anne wing to help care for his wife, Emily, 32, and their son Jack, who is now five months old.
He said: "Emily said it was fantastic to have me there. It allowed her to concentrate on the breast-feeding and me to concentrate on nappy changing and getting food and drink."
Rob Williams, from the Fatherhood Institute, said some men might not want to be cajoled by midwives into taking a more active role. But he said the benefits of taking a front seat far outweighed any short-term stress incurred.
"We are keen for fathers to be as well informed as possible."