Clock change 'stops outdoor play'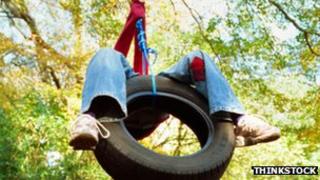 Not putting the clocks back would help in the fight against child obesity, a study suggests.
According to research, children are more influenced by daylight than the weather when deciding whether or not to play outside.
UK researchers report that not changing the clocks would give more opportunities for active play.
It strengthens the public health arguments for proposed changes to daylight saving, they say.
The research, published in the Journal of Physical Activity and Health, studied the activity levels of 325 children in south-east England aged between eight and 11.
The children wore accelerometers to record the amount of exercise they did, and kept a record of their activities in a diary.
A team from the London School of Hygiene and Tropical Medicine and University College London found the children did more exercise outside on longer days, particularly at the end of the day during summer.
This happened regardless of the likes of rain, cloud or wind.
Outdoor play was a bigger factor in overall physical activity than other factors such as structured sport sessions and cycling or walking to school, the team says.
Co-researcher Dr Anna Goodman, of the London School of Hygiene and Tropical Medicine, told the BBC: "This provides the most direct evidence yet that changing the clocks so that there is more daylight in the afternoon could increase children's physical activity."
She added: "The fact that kids spend more time playing outdoors and are more physically active overall on these longer days could be important at a population level for promoting their fitness and in preventing child obesity.
"This strengthens the public health argument for the Daylight Saving Bill currently under consideration by the House of Commons, which proposes putting the clocks forward by an extra hour all year round."
The clocks were moved forward by an hour during World War II to increase productivity at munitions factories and help people get home safely before the blackout.
But some health experts argue that a change to this tradition would give children more opportunities for outdoor play, as well as making it safer for them to travel home from school.
'Safe space'
Tam Fry, a spokesperson for the National Obesity Forum, said: "The longer the daylight hours, the longer kids will play. They really don't seem to care much about the weather but they do care about the dark.
"They need clearly to see the environment in which they can roam unfettered, and it should be no surprise that longer summer evenings provide that environment.
"They will be healthier and fitter from their outdoor play. Pack them all off to a safe space until bedtime."
Ministers are writing to counterparts in Scotland, Wales and Northern Ireland to seek a UK-wide consensus on a trial.
It would see the UK adopt Central European Time, with BST plus one hour in summer and GMT plus one in winter.