NHS must prepare for the genetic revolution, report says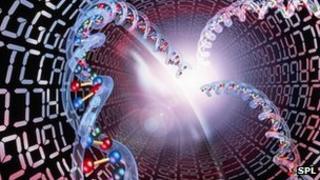 The NHS needs to "urgently" develop the tools and expertise needed to take advantage of a revolution in genetic testing, a report says.
The Foundation for Genomics and Population Health argues that new technologies could soon change care for cancer patients and people with rare conditions.
Treatments could one day be tailored to an individual patient's needs.
The government says it is evaluating the benefits.
Everyone's genetic code is made up of a string of letters. It contains a host of information that defines much of who we are, from eye colour to susceptibility to some diseases.
Revolution
The cost of sequencing the code, effectively writing out the string of letters, has fallen dramatically and this could be important for medicine.
Being able to read the code could help diagnose patients. Around 3% of people have genetic defects which cause rare forms of illnesses such as diabetes or cardiovascular disease.
Cancer can also be described as a genetic disease and some genes are known to increase the risk of cancer.
Genetics could also help predict which cancer drugs are more likely to work or those with the least side effects. Tumours which express the KRAS gene are, for example, known to be more susceptible to the drug cetuximab.
The government's chief genetics advisor, Sir John Bell, says: "[Genetics] will touch every single area of medicine for sure. For some it will have a very major effect, others it will be less dominant, but the contribution of genetics to all human disease is clear."
The report's lead author, Dr Caroline Wright, told the BBC: "I think it will come fairly quickly, probably for the rare disorders to start with, particularly kids with developmental disorders, any kind of undiagnosed rare condition where you suspect it to be genetic, but you don't know where to look."
Challenge
She argues that the NHS needs to come up with a way of dealing with the information from sequencing a patient's genetic code.
"The biggest challenge in a way is interpretation. Next generation sequencing techniques, that have improved and become much cheaper, are the beginning of the problem," she said.
"Once you've got your three or six billion letters of code, finding the answer in that is going to be very difficult.
"I think at the moment the NHS really needs desperately to build up the infomatics [IT] support."
Sir John says a set of specialist hubs need to be set up to handle the information, but that there also needed to be a "restructuring of the whole operation" to bring genetics to specialists in cancer, heart disease, diabetes and public health.
A Department of Health spokesperson said: "Understanding and harnessing genetic information offers potential to develop new treatments and cures.
"We continue to work closely with the research community and the research arm of NHS to look at the feasibility of specific programmes and new developments.
"We have asked the Human Genomic Strategy group to look at advances in this area and to evaluate their benefit to the NHS. Their report is due in January 2012."